Full Shares: Salad mix, Basil, Cucumber, Lacinato Kale, Cauliflower, Garlic Scapes….possibly head lettuce?
Partial Shares: Salad Mix, Lacinato kale, Spring onions, Broccoli, Garlic Scapes, and head lettuce
Hello CSA members!
I give our crew credit, they are battling through the plague of mosquitos, and enduring the hot days to boot! Long pants, long sleeves, rubber gloves and rubber boots, and bug shirt with hood…not much fun when temps are moving into the high 80's. Conditions are not easy on on the farm these days, and no notion of when they might improve. I think I've set a new low in my life…given how many mosquitos get into our house every time we try to rush in through the door, Rebecca and I have now begun to enter our house by crawling in through the dog door. As Forest Gump said "That's all I have to say about that". On the bright side, the conditions are encouraging us to limit our work hours and to get off the farm more to find more pleasant environs. Last week it was Beaver Lake, although the mosquitos seemed to have found it, and this evening it was the Whitefish Dog Park. Even the dogs were overdue for some mosquito-free play time.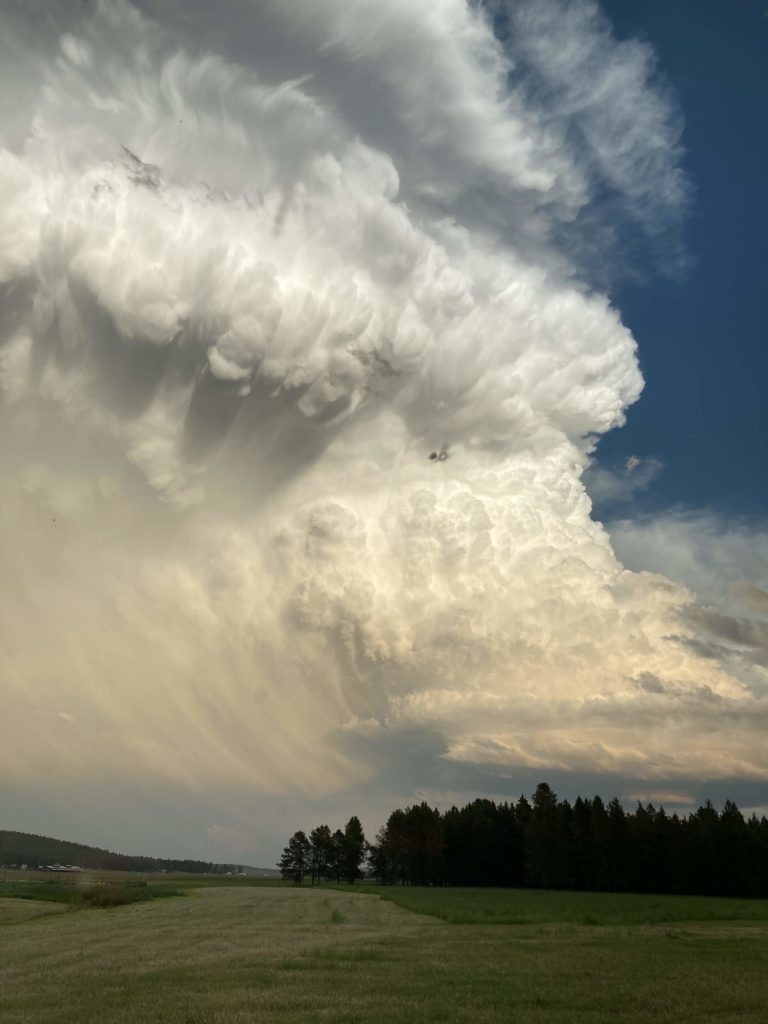 The high tunnels of tomatoes and cucumbers are looking amazing, and the first cucumbers are ready this week! The corn that was waist high on the 4th of July is now shoulder high. It's always amazing how fast corn grows! As you noticed last week, I stumbled upon some broccoli, so even though it wasn't listed in your share in the newsletter, we added it in. This week might be similar in that there may be a few late additions to the shares as we get through our harvest. We are harvesting out of the blocks that were impacted by the floods, but the new plantings are coming along nicely and the farm is looking better production-wise. The weeds are rather atrocious given the 3 weeks it was too wet to weed, but we are chipping away at them. And the biggest unknown is when the outside carrots will be ready. I am looking forward to that point in the summer where there are enough carrots ready for everyone who wants them, but we are not there yet.
Time to go gear up so I can shut down the high tunnels! We'll see you at CSA pickup this week!
Todd