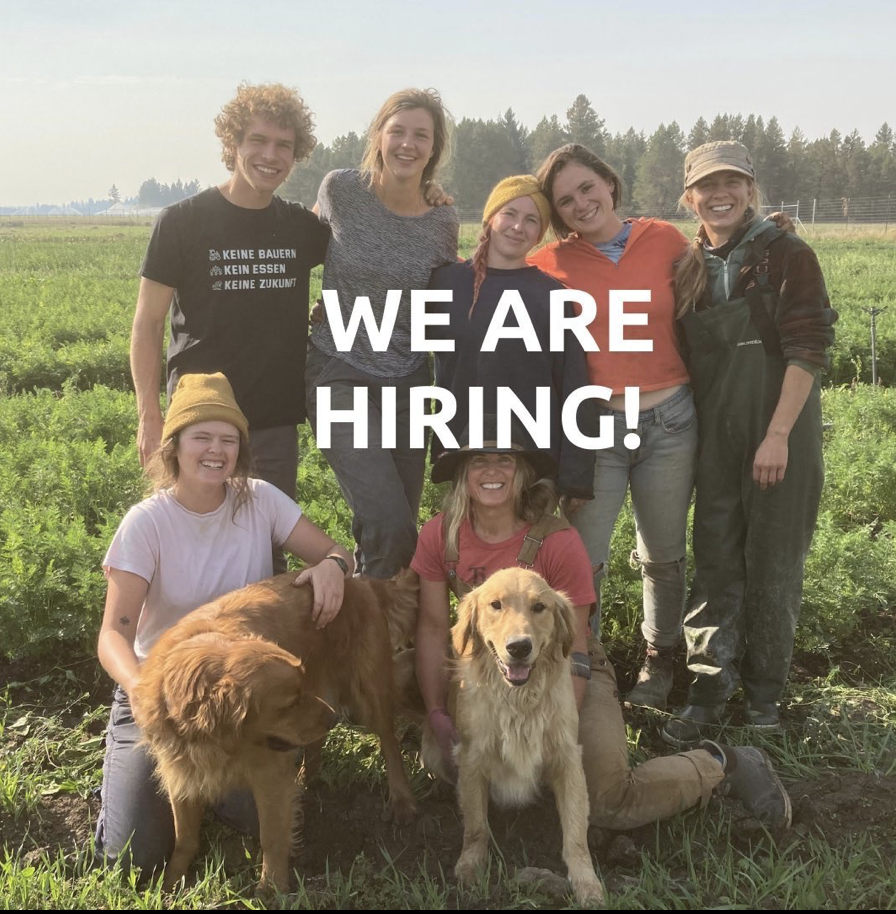 Employment:
We are now hiring for the 2023 season!
We are seeking motivated people with farming experience to join our team to help our farm continue to thrive!   We grow a lot of food for our vibrant community and we have a great relationship and reputation amongst our community.  This gives our field crew positions lots of opportunity to experience all aspects of production and sales, with lots of opportunity for taking on increased responsibility and ownership on the farm.   As a production farm, we seek applicants who have proven experience working in a market farm environment and understand the nature and pace of the work.  If you are interested, please send a summary of your experience (e.g. resume) and a cover letter explaining your goals of working on our farm this summer to 2bearfarm@gmail.com
 General Description: Two Bear Farm sits on 65 acres along the Stillwater River just west of Whitefish, in a quiet and peaceful setting only ten minutes from town. We have a 14-acre production field where we use minimum tillage practices, as well as 6 high tunnels in organic no-till production. We are a production farm that serves 250 CSA members, 2 farmers markets, and 34 wholesale accounts in collaboration with Wicked Good Produce. In 2021, we also opened The Farmers' Stand, which is a retail food market in Whitefish.   This diversity allows you to gain experience with not only the production side of the farm,  but also wholesale and retail sales.  Our farm is focused on getting fresh, organic, nutrient-dense food into our community, while also being good land/soil stewards.  We have a reputation for high quality and strong demand for our produce, and while that makes for high expectations of the farm and employees, it also makes for a satisfying and rewarding job.   We work hard during the work day, but we try to limit our days to 9 hours, and peak summer hours don't exceed 50 hours per week so that employees can have a work/life balance.   We are surrounded by state and forest service land, have a river in the back yard, and Glacier National Park is only 40 minutes away, so there is plenty of outdoor recreational opportunities on your time off.
 Positions Available:
 General Field Crew – starting at $15/hr. – Team members contributes to all aspects of the farm.  Tasks include greenhouse work, bed preparation, weeding, irrigation, harvest, post-harvest handling, CSA share packing and distribution, and Farmer's Market sales.   We seek hard working applicants who are passionate about farming, and have a basic proficiency with market farming tools and techniques.  Job requires strong work ethic, attention to detail, ability to stay focused on assigned tasks, and a passion for working outdoors.  This position requires ability to work well in a team setting, as well as individually on certain tasks while being self motivated.  Pay rate is based on experience and can increase based on performance.
Wash/Pack Manager – starting at $16/hr – This position performs all the tasks associated with being a general field crew member for approximately 30% of time and spends 70% of time managing our packshed operation.  Primary responsibility will be vegetable washing, bagging/labellilng, and cooler inventory.  This position is also responsible for the washing of all of our cut greens (salad, spinach, and arugula) in our "bubbler" each week, and prepping for CSA, Farmer's Markets, and Wholesale orders.  Good organizational skills, time management, attention to detail, and people training/management skills are helpful.  Requires knowledge of food safety rules, and the ability to train and supervise other farm employees working in the packshed, while also accomplishing your own work tasks.   During early and late parts of season, when the 18 week CSA is not happening, position will predominantly be general field crew tasks.  This is a great position for someone who wants to work in a farm setting, but without being outside all day, every day.  Position reports to Todd (owner/farmer). 1 position open.  Pay rate is based on experience.
 A successful applicant will:
 –Have a passion for farming and working outdoors doing manual labor (if this is your first time, perhaps seek out an apprenticeship where you have space to learn these skills).  This is not an apprenticeship, it is a paid position with much higher compensation as well as higher expectations.
 –  Have good interpersonal skills for working in a team environment, as well as when dealing with customers at farmers market
 -Understand that farming is hard work, and that every member is expected to contribute fairly so that the work gets finished each day.  
 –  Recognize that our farms success is a result of having consistent supply of high quality produce delivered via good customer service.  This does not happen by accident, and requires putting in consistent effort and attention to achieve this goal over the course of a long growing season. 
 -have past experience working a full time job
 – understand that this is not an apprenticeship.  The production demands of our farm do not allow us to spend vast amounts of time training people how to farm from scratch.  Ideal applicant will bring basic skills with them to the job, and we will train on specific tasks as needed.
Employment Duration:   Positions run from approximately May 1st until October 15th or so.  
 App Deadline: Application process is now open, and positions will be filled as suitable candidates are found.  We recommend submitting resume and cover letters detaling your skill set and interest in local food production to 2bearfarm@gmail.com as soon as possible.
 Minimum Length of Stay: Entire season preferred.  Some general field positions could be filled by students who need a shorter May-August commitment.
 Housing:  We might ask a lot of you at work, but you'll get some of the nicest farm housing around! We have three cabins available for rent on a neighboring property, which allows plenty of privacy while still being just a 5 minute walk to the farm.  Finding affordable rentals in Whitefish is extremely difficult. Each cabin has 2 bedrooms, with a shared kitchen, bathroom, and living room and can accommodate from 2 to 4 people.  Because the farm has 8-10 employees, and only housing for 6, accommodating couples where only one person works on the farm is difficult (although it depends on the season).  Single employees are easiest to house (2 per cabin).  Couples are slightly more challenging to house due to privacy and space concerns, so we will do our best to accommodate everyone, but there are no guarantees on number of roommates.  No pets preferred. 
 Meals:  While we may get together for some celebratory meals once in a while, on a day to day basis, employees are responsible for all their own meals.  We typically take a 45 minute non-paid lunch every day.  Employees who live in on-farm cabins return to their cabins for meals.  Employees living off farm need to bring their lunch with them as there is not time to drive to town to get meals.  That said, we will provide all employees with free produce throughout the season as it is available.
 Volunteer Opportunities: We will offer a few volunteer opportunities throughout the season for people to come work a the farm, typically in conjunction with a local non-profit such as Land to Hand MT or North Valley Food Bank.   These are typically announced via Instagram or Facebook, so stay tuned!
 Visitor Policy:
 Given our heavy workload and limited personnel, we can not accept visitors or volunteers at random or unannounced times.  Farming is production work, and random visits are a huge distraction for us that often force us to work extra hours in an already long day to make up for the lost production time.  If you want to visit the farm, please send us an email at 2bearfarm@gmail.com to inquire if there is a good time to visit.  If you are a farmer looking to learn, we'll be more likely to find time.  If you are on vacation and looking for an activity to take up some time, no offense, but we will likely decline due to the logistical strain it puts on the farm.  Thanks for your understanding!