So, how to summarize who we are and what we do in one newsletter …..that's a tough one.
While I think it's a great story, for expediency purposes, I'll fast forward to 2007. For starters, my name is Todd Ulizio.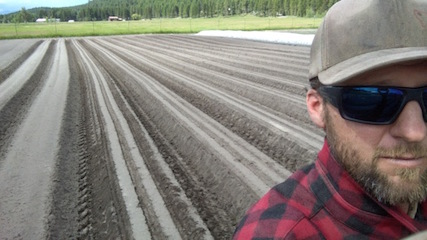 I am the co-founder and co-farmer at Two Bear Farm. I have blue eyes, so you will most often find me wearing a hat and sunglasses since bright sunlight makes me squint (and sneeze). OK, maybe I'm going a bit deep here. This picture is a bit old, so the beard has started to go gray, and reading glasses are a more common occurrence, but for lack of a better photo, you get the gist. Oh, and add a mask.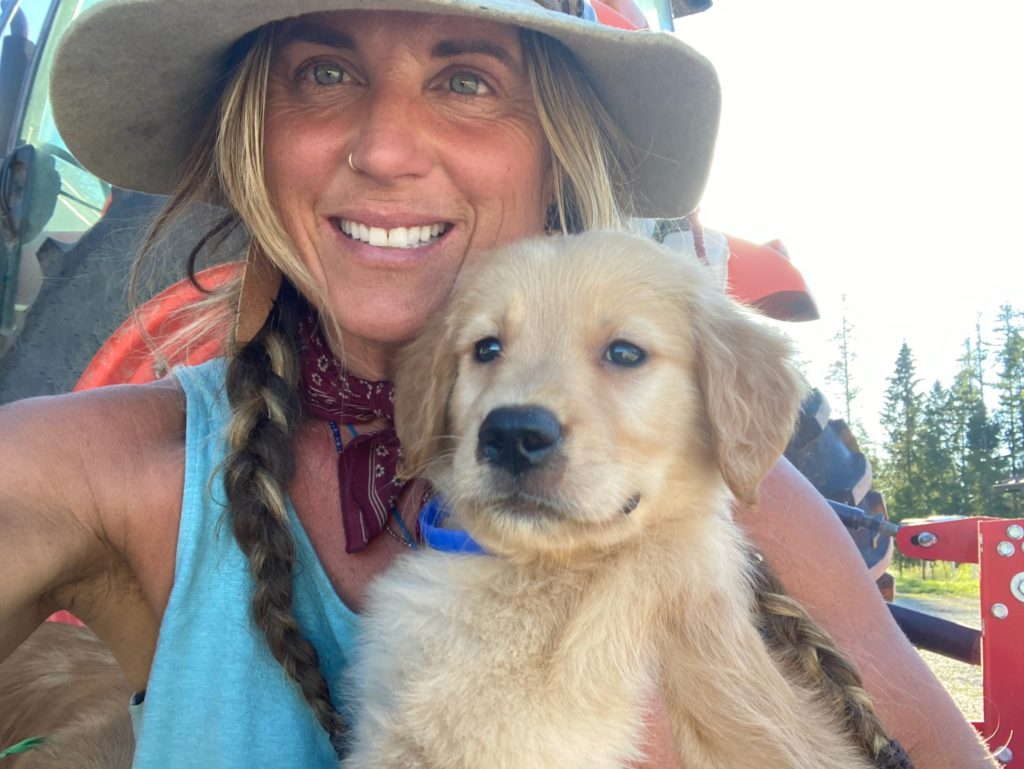 And this is Rebecca (my wife). She collects Golden Retriever puppies. Technically, her legal name is Rebecca Marie Avrett Ulizio, because when we got married she freaked out about taking my last name, and so in a moment of panic at the social security office, that is what she came up with. It's a real joy remembering that at tax filing time. She is also a co-founder and co-farmer at Two Bear Farm.
We met in Whitefish in 2007. I had just finished up a 9 year stint as a wildlife researcher, and I was looking for a new way to engage in conservation and working outdoors in a bit more of a tangible way. I had grown up on a small vegetable farm in Connecticut, and with a growing local food movement and new ideas about ecology and land stewardship, I made the rash decision to quit my wildlife career track and start over as a farmer. Which probably didn't surprise my family, because I had previously rashly quit a career in accounting to become a wildlife biologist. I moved up to Whitefish from Missoula to work on a farm, and Rebecca had just moved to town and was teaching sustainable agriculture at Flathead Valley Community College.
Rebecca is from Georgia, and has been fascinated with plants since she was a kid. She studied Agroecology at Evergreen State College, but was struggling to find a meaningful plant job that wasn't working for a biotech plant breeder. We met my first day in town, began dating that summer, got engaged on New Years Eve, and started our own farm the following spring. Many of you with 401k's might remember that was right on the cusp of the Great Recession, the Flathead was booming (or so we thought at the time), and land prices were expensive (or so we thought at the time). So, we leased land up in Eureka and started Ten Lakes Farm. It was a humble beginning on 1/4 of an acre with 24 CSA members. By year 5, we had turned a 5-acre hay field into a beautiful little farm. This is one of my favorite pictures of it ( I can't begin to tell you how many labor hours went in to that farm!)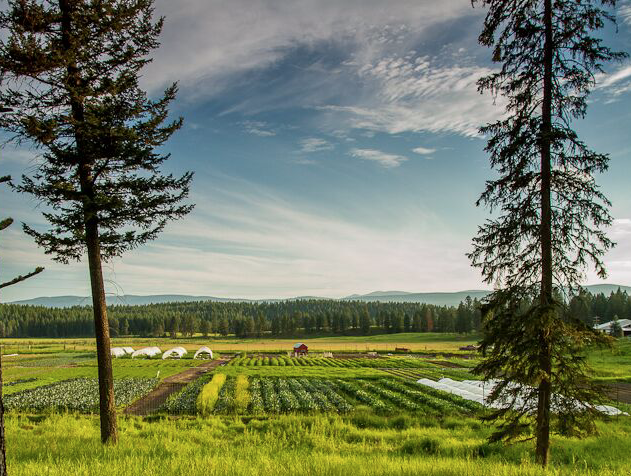 Those were hard years, where passion, strong work ethic, stubbornness, and a refusal to fail kept us chugging along. In our 6th year, we felt like we wanted to grow even more food, but didn't have access to more land. We were also not enjoying the drive to the Flathead Valley for markets and CSA distribution, and were having some issues with the landowner from whom we were leasing. At that point, we had 150 CSA members and were doing the Eureka and Downtown Whitefish Farmer's market ( a little known fact, we have not missed a single regular season Whitefish Farmer's market in 13 years!). So, in the middle of our 6th year, realizing we needed to find a new location ASAP, I reached out to Whitefish resident and philanthropist Mike Goguen on a hail mary pass. Serendipitous, I suppose you could call it. At that time, Mike was being pressured by his aging neighbors into buying their land that bordered his ranch on K M Ranch Rd. It was either that, or it was going to get subdivided. In literally a single 20 minute meeting at the downtown Coffee Traders, he decided to help us (and the community) out by partnering with us. He bought the land, we moved our farm business to his land, and we renamed it Two Bear Farm. That was the winter of 2013. We were open for business by that April ( I don't want to tell you how many labor hours that took either). Suddenly, we had 100 acres of land to work with, and we were much closer to the markets we served. This is a photo of our 13 acres of vegetable production taken in June a few years ago: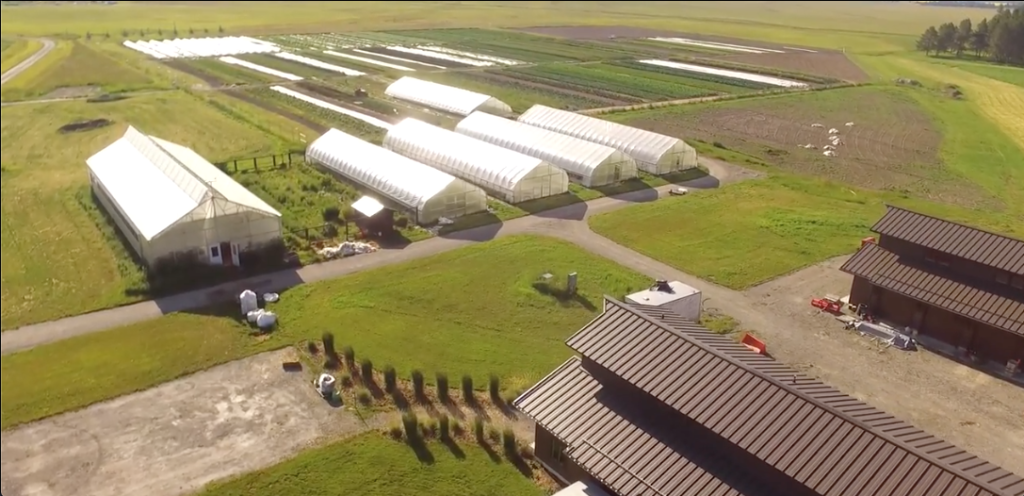 We got off to a rocky start at the new farm due to some unusual soil/mineral issues on parts of the property, but after 2 years, and moving the entire production field across the driveway, we began to figure things out. Today, we have a 350 member CSA, we serve 3 farmer's markets each week (Whitefish, Kalispell, and Columbia Falls), and we serve over 35 restaurants in collaboration with Wicked Good Produce, a local food distribution company run by our friends Brooke and Sean.
Along this journey, we have learned much and gained many insights. Many of them I will share with you this week. But for now, I thought I'd just finish up with some random facts:
The maximum windspeed a high tunnel with fabric end walls can handle without ripping out of the ground is 70 miles per hour.
Growing crops is not the same as growing food. The methods we use, how we treat our soil, whether we use or do not use chemicals, all affect the nutrition and quality of our food.
We are proud that we have grown our farm from relying on 2 young apprentices who generously traded the promise of eduction and a small stipend to work with us, to now employing 8 people who all earn a "good" wage for a small farm ($13-$16/hr). Farming is important and difficult work, and people deserve to be paid a fair wage.
Moreover, it has been a real joy to train and empower young women (who in our opinion, on average, tend to enjoy the full realm of farm responsibilities more than guys) over the years. It's only recently that farming has become a male-dominated occupation, and so seeing women regain their role in food production is a good thing. Here's a shot of last years stellar crew: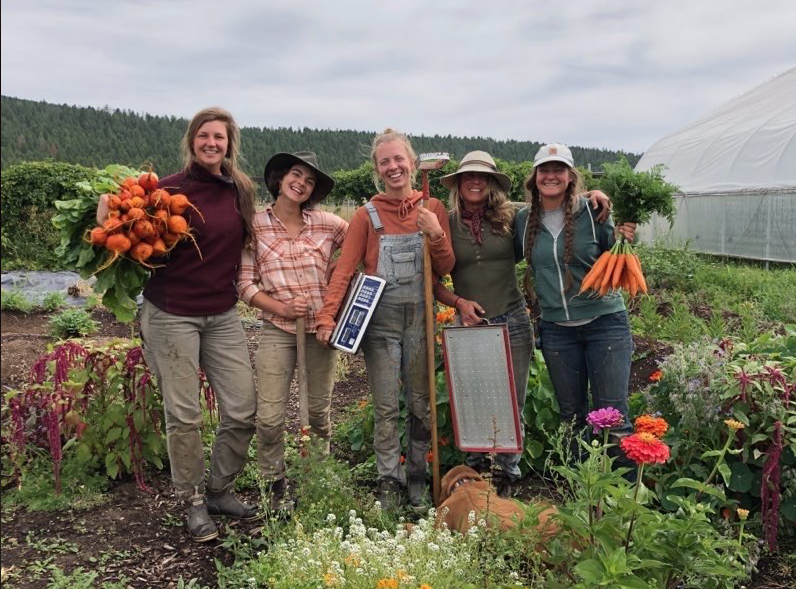 When you are a new farm fighting for survival, it's hard to not be competitive and focused inward. But nothing has been more rewarding than achieving enough stability and security to be able to turn around and face outward, and invite other farmers to work collaboratively to grow our food system. This is the latest chapter in our journey, and I will share more on it later in the week.
We our proud that in our partnership with FarmHands/Nourish the Flathead, our carrots are now served to school kids in Columbia Falls as a daily snack. This not only provides nutrition, but for many kids, it creates a real connection to vegetables and farms. This hopefully leads to healthy eating habits throughout their lives, and maybe even future customers for small farms.
People often laugh at how fast we put up and take down our market stand. By a rough estimate, we have done 660 farmers markets in the last 13 years…..that's a lot of tent, table, and display setup!
In an average year we grow and sell 36,000 pounds of carrots.
I love planting pollinator cover crops. It's an expensive habit, because we don't harvest and sell anything from it. We simply do it to support bees and to add beauty to the farm. We all need to do more unprofitable things that add beauty to the world.
Well, that should get us started. Whether you are new to the farm, or have been a CSA member for 13 years, hopefully there was something new in there for you! Talk to you tomorrow.
Todd