Full Share: Salad Mix, Spinach, Mesclun Mix, Spring Onions, Radishes, Baby Bok Choy, Hakurei Turnips
Partial Share: Salad Mix, Spinach, Spring Onions, Radishes, and Baby Bok Choy
Hello CSA members!
Welcome, or welcome back, whichever the case may be, to the 2021 Two Bear Farm CSA season! Thank you all for supporting healthy food and local agriculture in your community.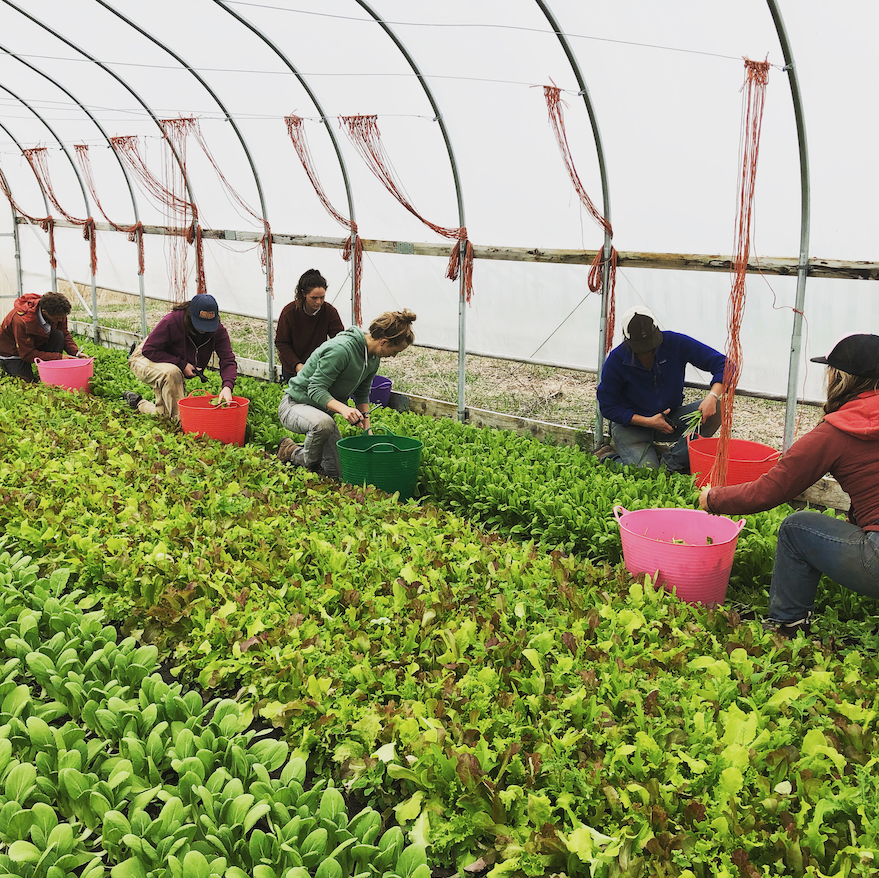 There are some significant changes to CSA this year, as well as some new faces, so this week I'll keep my philosophical ramblings to minimum and focus on the nuts and bolts of the CSA. It's my least favorite news letter of the season as it's all boring rules and logistics 🙂 We ask that you carefully read your newsletter each week as there may be important info regarding your share and schedule. Just so you are aware, there are two versions of the newsletter. We have a blog on our website twobearfarm.com that people have subscribed to ( not all are CSA members) that has the newsletters and photos listed on the right hand side of the homepage. Then, we send out a link to this blog via email to active CSA members, but I don't think this link always contains the same photos. So, if you are getting two messages each week, it's because you have previously subscribed to the blog, and you are a current CSA member. If you have share partners who don't have email on file, but want to read the newsletter, just send them to our homepage and they can find it there.
Every week you will receive a newsletter just like this one by Tuesday night at the latest, giving you updates on farm news, CSA share information, and recipe help. All of you at this point have purchased either Full or Partial CSA share and have selected a pickup location via our CSAware software program. I encourage you to continue to use your account in order to check your balance or to make any changes to your pickup location. You are allowed to permanently change your CSA pickup location if the initial one you chose does not suit you. You are also allowed to temporarily change your pickup to a different location for convenience or scheduling reasons, but you need to do this by the Saturday before the CSA week you want to change, and you need to make this change in your account in the software. We are unable to handle last second requests to change locations, and we cannot keep up with the volume of emails asking us to make these changes for you. If you have issues, by all means contact us, but we ask that you give it a shot yourself first. Also, as a general rule, please never take a white CSA box home with you. We pack your shares in these boxes to keep them in their freshest condition, but we ask that you open the box and unload its contents and leave the box behind so we can re-use it the next week.
The CSA pickups, as I mentioned in my last email, are slightly different from last year.
The Whitefish Pickup is no longer at the Downtown Farmer's Market. Even though we may be there with our market setup selling vegetables, we will not have any shares with us. The shares will be available for pickup on Wednesday at The Farmers' Stand market at the Mountain Center (just to the right of Escape Now Spa and just to the left of Home Consign & Design). The store is not yet open for business (June 1), so between now and June 1, you can come pickup your share between 4:30 and 7pm at our refrigerator truck that will be parked right in front. Once the store opens for business, you will be able to pick up your share between 10am and 6:30pm. Over the years we have received a lot of feedback about the lack of parking and the business of the farmers market, so we are hoping that this change makes CSA pickup less stressful and more convenient for everyone. We will not be pre-bagging these shares this year, so please bring a re-useable bag to load you share into. If you forget to pick up your share, we will hold it in the cooler for 24 hours, and will then repurpose it. If you do not come get it within the 24 hours, you forfeit that share for the week.
The Columbia Falls Pickup is Thursday evening between 4:30 and 7pm at the new Armored Exteriors building at 2315 9th St West. It's on the west side of C. Falls on HWY 40 near Super 1 Foods. This is now a drop location, so there may not be any farm personnel present. When you enter the building, you will find all the shares pre-bagged and labelled with last names. Please take care to select the bag with your name on it. If you cannot find a bag with your name on it, please do not take some one else's. Instead contact us and we will figure out what the issue is. Please be respectful of the pickup times, and do not show up early or late expecting to find the building open. If you forget to pick up your share, we do not come back and get them, so they will sit in a warm building all night, and you can try to come get them the next day. After 24 hours, the shares will no longer be available and will be forfeit for the week.
The West and East Glacier Pickup is Friday from 11am to 7pm. at the Discovery Center in West Glacier. The shares will be inside this year (like two years ago). Please enter the left most door of the building, and you will find the shares organized on the left into three groups…West Glacier, East Glacier, and St. Mary. All shares will be pre-bagged and labelled with your last name, so please take care to find the correct share, and as mentioned earlier, please do not take someone else's for any reason. If there is an issue, call us and we will get it squared away. If you forget to pickup your share, we do not come back and get them, so they will likely sit out all night in a warm building. You can try to come get them the following morning, or contact the Discovery Center to make arrangements.
The Two Bear Farm Pickup is still Friday afternoon between 4:30pm and 7pm in the first brown barn. There should be signage to guide you to the correct spot. We pack all the shares fresh and it takes us right up to the delivery time, so please do not arrive early or you may be disappointed to find that your share is not out yet for pickup. You are welcome to get out and look around the farm, just please no smoking or pets allowed. If you forget to pickup your share, we will put it back in our cooler at the end of pickup. Please contact us if you want to come get it within 24 hours, and we will set it out for you. Please do not show up to the farm at a random time expecting to find it, because it will not be set out for you, and please do not go looking through our coolers trying to find it.
The Kalispell Pickup is same as last year at the Saturday Farmers Market at FVCC between 9am and 12:30 pm. Please come find our market stand and come to the back of the refrigerator truck and make your presence known. You do not need to stand in the market line for CSA, unless you are planning on purchasing additional produce. If you forget to pickup your share, we will bring it back to the farm and put it in the cooler. Please contact us within 24 hours to claim it, and we will set it out for you. Please do not come out unannounced (especially on Sunday) looking to find it as no one will be around to assist you.
See what I mean…lots of rules. But, it's important to go over this up front as it's these little things when multiplied by 250 shares that can make a CSA relationship very stressful.
There are always some bumps in week 1 with the software, so we appreciate your patience and we will be sure that any issues are resolved promptly. If you still have a remaining balance on your account, we request that you get that paid up as soon as possible…again, simply go to your account and you can check your balance and make payment there.
As far as recipes go, we will offer you lots of online recommendations this season, although this week is pretty straight forward (plus I spent all day planting potatoes and am feeling a bit beat). For starters, we highly recommend Dishing Up the Dirt, which has recipes listed by vegetable type. Refer to it any time for many delicious options. My personal opinion…. Fresh salad greens, mesclun and spinach are all best eaten as fresh salads. Were big fans of simple dressings…basically olive oil and apple cider vinegar or balsamic vinegar. Thin slice the radishes for salad, and then blend the tops with olive oil to make an early spring pesto for toast, pasta, sandwiches, or rice bowls. Spring onions can be eaten on salad, brushed with oil and grilled (a popular use), or chopped and used in virtually any meal breakfast, lunch or dinner. Well, maybe not your cereal. The Baby Bok Choy is great sliced and lightly sautéed or grilled, and can be used as a side, or chopped and added to stir fry, omelettes, or any cooked meal. And lastly are the Hakurei Turnips….not your grandparents turnip. These are super sweet and can be slice thin and eaten raw, or cubed and roasted, or sliced and browned in a pan (our favorite)….many people start as skeptics of these turnips only to come back to us raving about them. Same as the radishes, the tops can be eaten, most commonly steamed as a side or added to stir fry.
Alright…here's hoping for smooth sailing. We look forward to seeing/meeting all of you this season, and we hope you enjoy some of the freshest, healthiest organic produce you can find in Montana! See you soon!
Todd