Full Shares: Salad Mix, Spinach, Spring Onions, Baby Kale, Radish, Carrots, Little Gem Mini-Romaine, and Chard
Partial Shares: Salad Mix, Carrot, Spring Onion, Baby Bok Choy, and Radish
Hello CSA members!
Things are really starting to pop on the farm! We're in the peak of planting season, and summer feels like it's here this week! The next 40 days of the year surrounding the solstice are the longest days of the year, and so if you can get the plants in the ground, keep them watered, and control the weeds….the plants will do the rest. Farming feels more complicated than that most days, but that's the gist of it. Lot's of growth in June means lots of bounty in July, August, and September!
The reason we plant so early, and go through all the headaches of putting row cover on every bed, is that now that the warm weather shows up, the plants are well established and able to maximize photosynthesis. There is really no getting around the fact that row cover is one of our most important tools. Check out these broccoli plants for instance.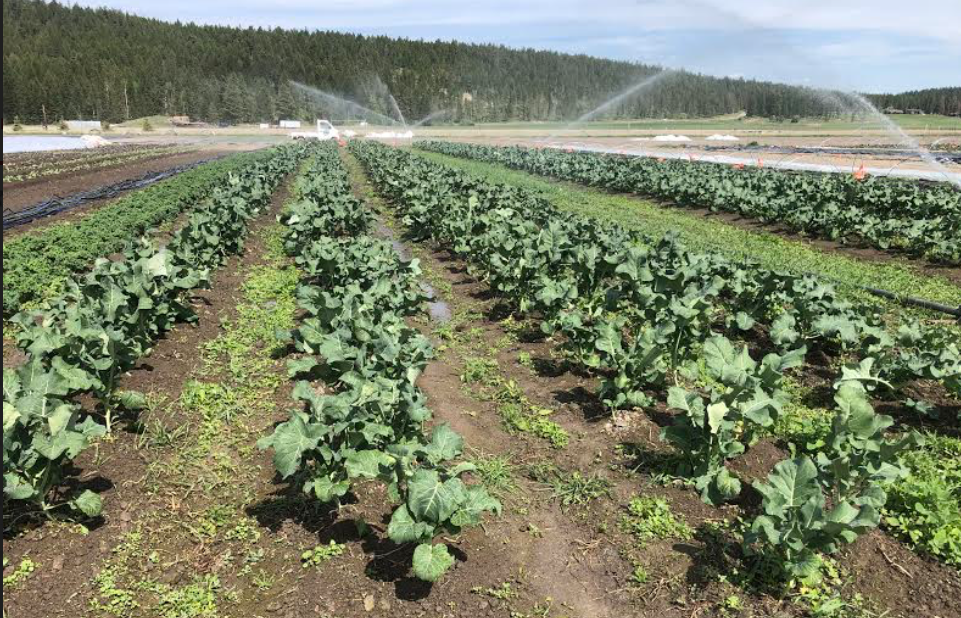 The row covers provide a warm, protective micro climate to help these plants get established during the cold springs. They also prevent us from getting at the weeds, so now as the days heat up, its a race to get things weeded for before they get out of control.
The other form of season extension we use is the High Tunnel, which you've been eating out of the past 3 weeks. This photo is of the early beets and carrots that we seeded back in March in our rolling tunnel, and this is what they look like now after moving the tunnel off of them.
Fresh carrots seed outdoors are usually ready some time in July. The only way that we can get you early carrots is to seed them in a tunnel in early March, when there is still multiple feet of snow on the ground. I know you can buy carrots any month of the year at a grocery store, but fresh carrots in Montana in June are a treat! No need to peel these babies…just take a bite! As they continue to grow and mature, they will get sweeter, but they're not off to a bad start. This tunnel is now full of tomato plants that will spend the rest of the summer and fall inside protected from frost.
If you are trying to make a living as a vegetable farmer in Montana, it's hard to just operate in the frost free months of……hmmm, July? These tunnels and covers are the reason we can produce as much food in such a short window as we do. Last photo, just because the colors are so pretty, is of Block 1, which is where we planted our crops in the main field this season (as opposed to in tunnels). After staring at a see of white fabric all spring, it's very exciting to final pull the covers and see the product of all the hard work.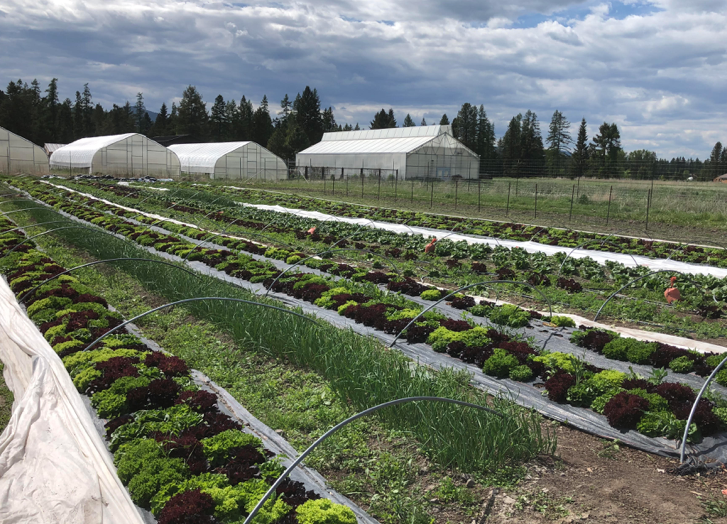 For the Whitefish members, tomorrow marks the big day that The Farmers' Stand makes its soft opening. One oversight on our part is that the walk-in cooler in the store is small, and it is full, so we have no room for the shares inside. Instead, we are going to park our refrigerator truck out in front of the market in it's usual spot, and keep the shares in there all day. Just go inside the store, and ask someone to get your share for you. In order to give the crew a bit of time to adapt on opening day, we would would like to have CSA pickup begin at 10am (rather than 8am as mentioned earlier). Pickup will then run until 6:30pm when we close. I know there is a member out there I talked to this spring who couldn't make it until 7….I'm sure we will still be there closing down the store so that should still work. If you forget your share, we will keep it at the store, and you can pick it up Thursday between 8am and 6:30pm. Hopefully that is way more convenient for everyone!!! To prevent clogging up the small cooler, however, the same rule still applies as before…. If we haven't heard anything from you by mid-day on Thursday, we will stop holding your share and we will repurpose it.
Looking forward to seeing you at CSA pickup, and if you get a chance, swing by The Farmers' Stand some time to see what we've been up to the past couple of months…aside from farming 🙂
Todd