Full Shares: Sweet Corn, Sweet Onion, Sun Gold Tomatoes, Green Beans, Zucchini, Cucumber, Potatoes, and Basil
Partial Shares: Sun Gold Tomatoes, Zucchini, Sweet Onion, Sweet Corn, Green Beans, Cucumbers, and Potatoes
Hello CSA Members!
The Sweet Corn is ready! And word is out, as the Brown-headed Cowbirds have seemed to find it this year. Ever since I was a wildlife biology student taking Ornithology at the University of Montana, I have had disdain for the cowbird. They are a brood parasite, which means they find the nests of other songbirds and they lay their own egg in the nest. Then they rely on the songbird to incubate and rear their baby. Worse, the cowbird baby is typically much larger than the songbird babies, and so it outcompetes them. So, they are an easy to dislike bird. However, what I did not know until recently is why they do this. Turns out the cowbird is a native species (protected by the Migratory Bird Act), and they had a symbiotic relationship with the large herds of Bison that once roamed this country. Because the Bison were always on the move, the cowbird could not settle down to build a nest and rear young without risking being left behind by the herd, so they evolved a behavior that allowed them to reproduce AND stay on the move. The intelligence of nature never ceases to amaze me. When the bison were wiped from the landscape, the cowbird was displaced. Their role rendered obsolete. Kind of like being a US auto worker after NAFTA. Sure, cowbirds could sit in pastures with livestock, but that seems like a demotion in my book compared to their free-roaming history. So, now rather than simply viewing them as pest ( which I still do), It also makes me recognize that it was actions by humans that put them and me in this predicament, and hence makes me a bit more forgiving of their behavior on the farm. But I digress…regardless of cowbird behavior, the corn looks great, it's sweet and tender, and as I say every year, you don't need to boil it before eating it (and, yes, I know you don't believe me.)
We dug the first potatoes this morning! Two rows down and 40 to go! This is a new variety named Arizona, which we were introduced to while on a tour of Jason and Yvonne Kimm's seed potato farm down in Belgrade, Montana. In case you didn't know it, Montana is a large producer of seed potatoes, which means growers here produce the seed potatoes that get sold to other farmers, who then grow those potatoes out for food. One thing that the Kimm's mentioned to us is that potatoes from other states can carry viruses that affect and/or threaten seed potato production here in Montana. So, they urged that rather than buy our seed potato from out of state seed companies, we should try to buy from within Montana to protect the growers. As a "local" farmer, it seemed it was time to put my money where my mouth was, hence this new variety for us. It looks similar to a yukon gold, but larger and slightly lighter in color…I'm curious to hear what you think about it.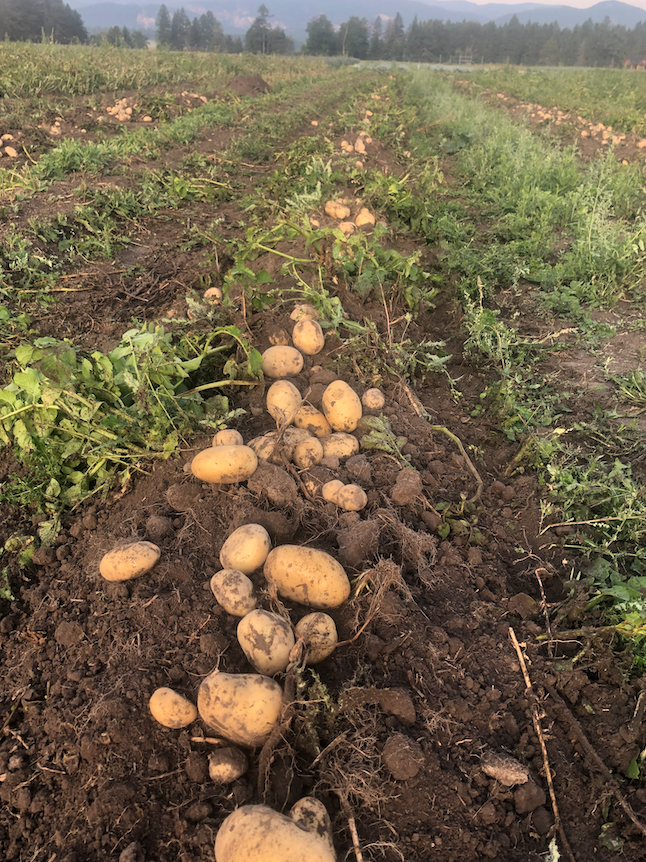 In general, this week's share is quintessential summer. It has many of the warm season crops such as tomatoes, sweet corn, green beans, sweet onion, potatoes, cucumbers, and squash. And given the heat (and some bad experimentation by yours truly), we had a gap in our salad mix production this week, so it's one of the few weeks you won't have lettuce mix. That said, when I was a kid, we rarely ate lettuce in peak summer (as it tends to get bitter in the heat). Instead, we ate "summer salad", which was sliced cucumber, onion, tomato, and basil marinated in oil and vinegar. And it appears you have all those fixin's this week, so give it a shot!
And the Sun Golds are going off right now! After months of trellising them, it's always exciting to reach this point in the season where they are bearing fruit. While it's hard to tell in this photo, the plants right now are about 8 feet tall and loaded with fruit…should have added a person for scale. This picture was actually taken right AFTER we picked them for the CSA.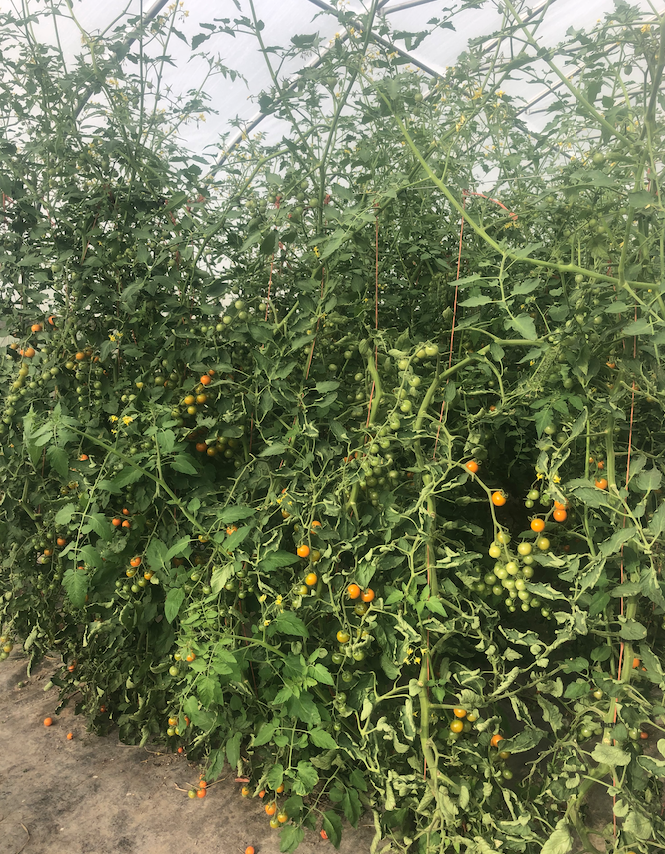 Well, time to get ready for farmer's market. We'll see you at CSA pickup this week!
Todd