Full Shares:  Shishito Peppers, Sweet Corn, Sun Gold Tomatoes, Green Beans, Slicing Tomatoes, Zucchini, Cucumber, Potatoes, and Basil
Partial Shares:  Sun Gold Tomatoes, Shishito Peppers, Slicing Tomatoes, Sweet Onion, Sweet Corn, Potatoes, Cucumber, and Zucchini.
Hello CSA members!
I don't know about you, but I for one am glad that the weather is cooling down.  I think for many people, this has been a stressful year so far, and all that heat and smoke was not helping anything.  As the saying goes, cooler minds shall prevail…I know I'm ready for the change.   That said, the fact that we are going to go from smoky and 90 degrees on Monday, to 60's and possible frost on Wednesday night is a bit of a drastic change.  Our weather is beginning to mimic our politics….it's either one thing or the other with no middle ground. But that is farming in the Northern Rockies.  There's a reason so few people choose to be vegetable farmers around here.  Actually, now that I think of it, there are a lot of reasons 🙂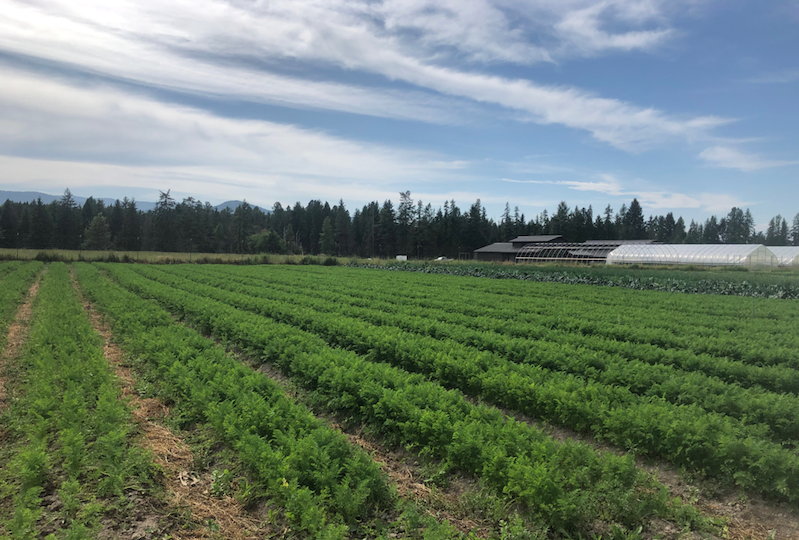 It does feel a bit odd to have the weather turn cooler, as the farm is reaching its peak production. This week it was hard to figure out what to put in the shares as there are literally 15 different crops to choose from. We went with the warm-season crop lineup of beans, peppers, and tomatoes as we don't know how much longer they will be with us, even though our fall successions of cauliflower and broccoli are already getting harvested. Hopefully we don't lose any crops with the frost, but one never knows how severe it will be.
The cowbirds did a number on the corn this year, so your second batch of corn is a bit smaller and hopefully undamaged. I didn't really factor the cost of it into your share this week just in case.  I know birds messing with crops is as old as agriculture itself, but this was the first year in 14 years that they bothered us, so I guess we should consider ourselves lucky.  That said, I will certainly be taking more precautions and doing a bit more hazing next year to prevent the loss, as it was significant. 
One announcement for the Whitefish members….I would like to request that you pickup on Wednesday if you are able to do so, as that is the scheduled pick up day. I know we offered to hold "missed" shares at The Farmers Stand all day Thursday for those who forget, but it seems like more and more people are choosing to simply pickup on Thursday for convenience. The issue with this is we don't have the cooler space at the store to accommodate a lot of shares. Last week we had over a dozen shares in the cooler, and 8 of them never got picked up at all….which is a lot of wasted food. So, your help on this is much appreciated.
Well, it was a rainy day, and a rainy market, and I for one am looking forward to a warm bed. Enjoy the cooler temps and the fresh air, and we'll see you at CSA!