Full Share: Salad Mix, Huck Gold Potatoes, Radishes, Bulk Beets, Sungold Tomatoes, Heirloom tomatoes, Sweet Onion, and Shishito Peppers
Partial Share: Arugula, Sungold Tomatoes, Heirloom Tomatoes, Sweet Onions, and Carrots
Hello CSA members!
What a pleasant week of weather on the farm! I would gladly take sunny and 65 any day…perfect working weather. The team is working hard to get all the storage crops in before we get any hard freezes, as well as cleaning up the farm in preparation for next season. This time of year, it's a lot of heavy lifting, as all the produce (potatoes, onions, squash, and carrots) weigh a lot more than salad mix! One thing we do here to help our crops last longer in storage is haul them into our greenhouse so they can better cure without morning dew and temperature fluctuations, while at the same time protecting them from freezing or pest damage.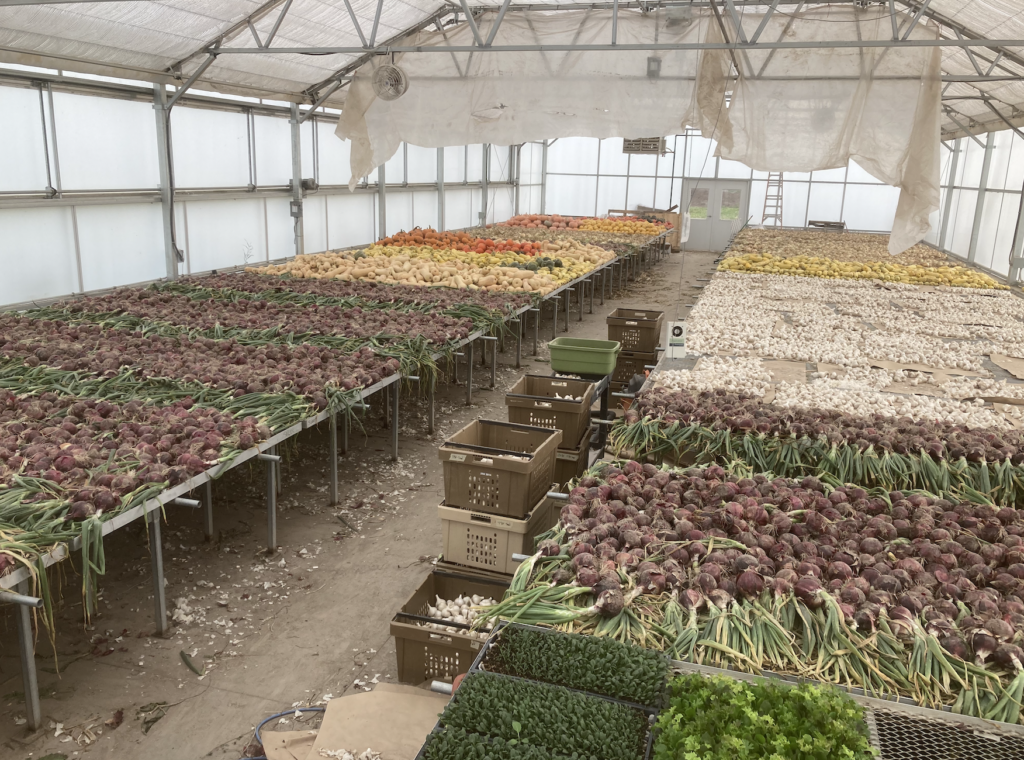 You've all seen the bumper sticker "Who's your Farmer"…well here is a photo of the team that has been growing, harvesting, washing, and packing your shares all season (Alex, JAK, Caley, Rhianna, Nicole, Makenna, Rebecca, and the golden boys).
Historically, farming has been considered "low-skill" labor, but the modern day farm consists of a lot more than simply pulling weeds out of crops. The breadth of tasks we do each day, and the logistics we juggle, make this one of the most diverse jobs I've had. There are no "departments" to divide up the tasks and responsibilities….we all do it all. My personal life journey has taken me from being a Certified Public Accountant working for a Big Six accounting firm, to a published wildlife biologist, and now a small farmer. Our society would deem those different jobs to worth vastly different compensation because of the skill and training they require, but I would disagree….I have found all three jobs to be equally challenging. Yet the pay discrepancy is significant. Our society values accounting services as being worth much more than food production…which is kind of funny if you think about it
People demand cheap food, but are wiling to pay a lot for accounting? Maybe this is an artifact of time past, when historically many people knew how to grow food and very few people knew how to do accounting. But is that still the case? Seems virtually no one grows their own food anymore. Given the laws of supply and demand, and just how few farmers there are today, and just how many lawyers there are today, will we on a path to a time when lawyers will make $15 an hour, and farmers will get paid $300 an hour? Oh, a guy can dream!
While I couldn't resist the opportunity to poke fun at social priorities, my point is to acknowledge and give credit to the many young people (many whom are college-educated) who are choosing this path in life these days. And to the farmers, like JM Fortier, who are providing them the guidance and tools they need to succeed. Every generation has different views on the point and purpose of work, and I'm glad to see the younger generation seems to have young people who are willing to work hard in order to do purposeful and meaningful work that contributes to their communities.
And when you support a small farm in your community, that is one of the things you are supporting.
Enjoy the fall weather, and we'll see you at CSA!
Todd