Full Shares: Acorn squash, Delicata squash, Carrots, Potatoes, Red and Sweet Onions, Garlic, Red Cabbage…maybe a tomato if we can keep it from getting squashed (no pun intended)
Partial Shares: Acorn squash, Delicata Squash, Carrots, Potatoes, Red Onion, and Garlic
Hello CSA members!
This is it! The final week of your 2021 CSA share ( If you don't read your newsletters, next week is always a little awkward). What a fitting week to finish up the CSA, as tomorrow also happens to be the Autumn Equinox, named such because it is the start of Autumn and it is only one of two times in the year when the hours of darkness and light are exactly equal. Or to put it another way, in balance with one another. And balance is a big theme this time of year, as many farmers who have been working so hard all summer (including during all the holidays) are seeking more balance in their lives. This season was great from a production standpoint, but challenging on the customer service side of things due an overall excess of stress in our society, and the smoke and heat didn't help. So as we head into fall, we will try to learn and improve from the 2021 season in order to better shape our farm to be more sustainable and resilient for us as we head into our 15th season. We are definitely not spring chickens anymore.
Here at the farm, the field is a mix of browns and greens. The brown of the spent corn stalks stand in stark contrast to the bright greens of the cover crops, which are feeding the soil for next years crops.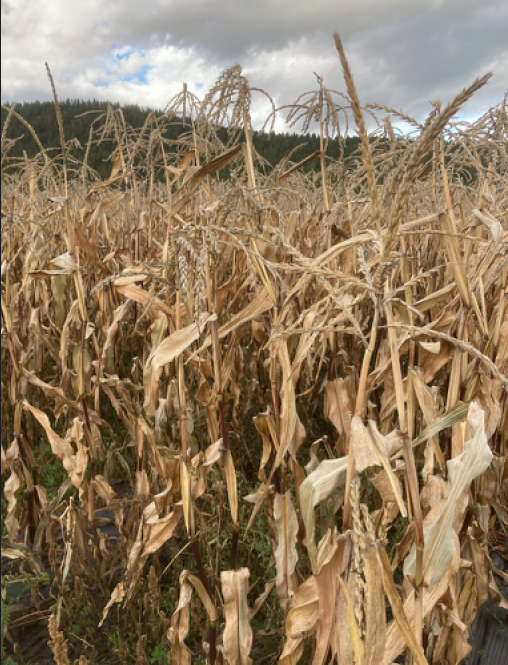 This time of year, we can start to expect almost nightly frosts, so not much will continue to grow outside in this part of the valley. This is the time of year when farmers really notice a difference in where they are located. If you weren't aware, this valley is full of microclimates. On cloudy nights, the clouds hold in the heat, which tends to make for warmer nights and uniform temps around the valley. But on clear nights, we start to see major differences across the valley… such as last nights Harvest Moon. We all know that hot air rises, but we often don't think about the converse, which is that cold air sinks. And so if you live in a low spot in this valley, especially along a river, this is the time of year where things get much colder than people who live in town, or live up on a hillside. For instance, last night the low temp in Whitefish hovered around 36 degrees with no frost, whereas out at the farm, we had 28 degrees and a hard frost. And if you live in the south of the valley, closer to Flathead Lake, the lake effect keeps the temps even warmer than 36.
So, I guess my point is, things are slowing down here at the farm as the seasons shift. Most years when members ask me what they should do now that their CSA is over, I usually shrugged because I didn't have much of an answer. This year, I suppose I do have a better answer. A couple in fact. First, we are offering up a canning tomato special for any one who wants to make some sauce or salsa. Twenty pounds for $40 while supplies last…and you can buy those at our website homepage by going to the online market. Pre-payment is required.
The second option is the annual Stock Up Sale, which is Thursday, October 7th at the farm from 4pm until dark. You will be able to find bulk amounts of carrots, potatoes, beets, onions, garlic, and winter squash, as well as anything else that is around (salad mix? tomatoes?) for sale. Its also a fun time to celebrate the season and visit with our community….there will once again be a food truck and some refreshments, and it's really become quite an event. (No early entry and no special orders accepted please)
Lastly, we now have The Farmers' Stand. The market will be open all winter, and we will be trying to source organic regional produce (including our own) for as much of the winter as we can, which is much better than a shrug. Maybe not the perfect answer, but certainly progress.
So, with that, I'd like to thank you all again for being a part of our CSA this season and supporting local Organic agriculture. Hopefully some of my newsletters have shed some new insight on what it's like to be a small farmer in todays society, and how important (on many levels) your support of our farm is. Your final share is very much an autumn share in appearance…you'll be seeing your first winter squash, plus items like onions, cabbage, potatoes, carrots, and garlic which can all hold for a while. We hope you enjoy.
See you soon,
Todd