Full Share: Salad Mix, Spinach, Arugula, Baby Bok Choy, Radish or Turnip
Partial Share: Salad MIx, Spinach, Baby Bok Choy, Red Russian Kale Bunches
Hello CSA members!
We hope that you enjoyed your first week of CSA, and I hope we've worked out any of the issues with memberships at this point. Overall, things seemed to go pretty smooth, so thank you for that. For those of you at the Whitefish pickup, you got to meet Noa, who will be managing the shares at that location this season and bringing her youthful enthusiasm to the drop point. She was so excited after last week that when she got home she had to go for a bike ride just to burn off the extra energy. Ahh, to be young again! But it was a great realization to me that the crew should be able to share their excitement and enthusiasm not simply for field work and learning, but from a customer service standpoint as well. We have already decided to have the crew run the Tuesday market in Whitefish this season (although we will not be at the first one tomorrow due to the cold spring slowing our production), and now for CSA as well.
Getting our farm to this point over the past 15 years has taken an extraordinary amount of work. To use running as an analogy, it's like we've been running the 10,000 meter race, and it's been exhausting. But this season, I realize maybe farming should be more like the 4×800 relay. Maybe we pour all our effort into it, but then at some point we hand off the baton and let someone else sprint for a little bit, at least in some aspects of the farm. Sometimes the best recipe for enthusiasm is youth.
That said, I still hold some hope. After farmer's market this past weekend, I had planned on using Sunday to relax and recover. However, late Saturday afternoon, I got an invitation from some friends to paddle a raft in the race at the Bigfork Whitewater Festival on Sunday. They needed one more paddler (hence the name One Short), and had hit "U" in the rolodex, so I felt a bit obligated. Rather than come up with a litany of reasons I couldn't, I decided to say yes. It's one of the reasons why we live in Montana, isn't it…to get out and enjoy the natural beauty? I've always wanted to float the Wild Mile, so why not. We were pitted against a lot of young folks, many of them raft guides half my age, but at the end of the day I think our boat had the most heart. We ended up winning the first heat time trial, and then won two head to head races to win the gold. Pretty good for an old guy and his friends. Not exactly the rest day I had envisioned, but a lot of fun! And back to my point of getting old, it reminded me of the Toby Keith song "I ain't as good as I once was, but I'm as good once, as I ever was."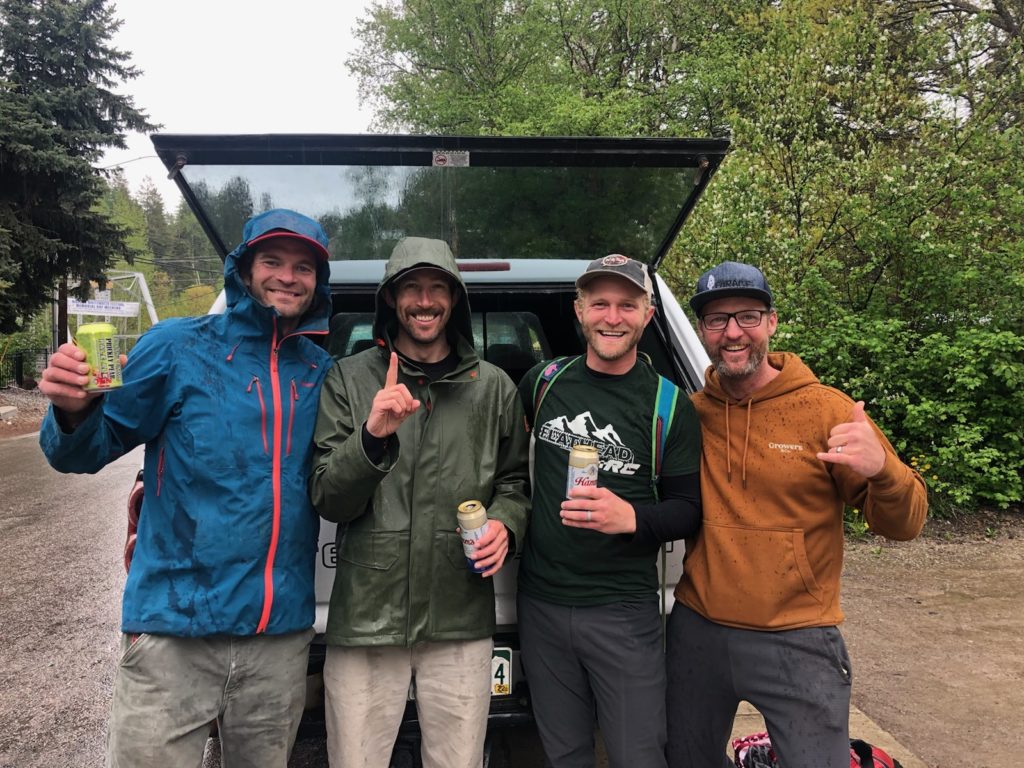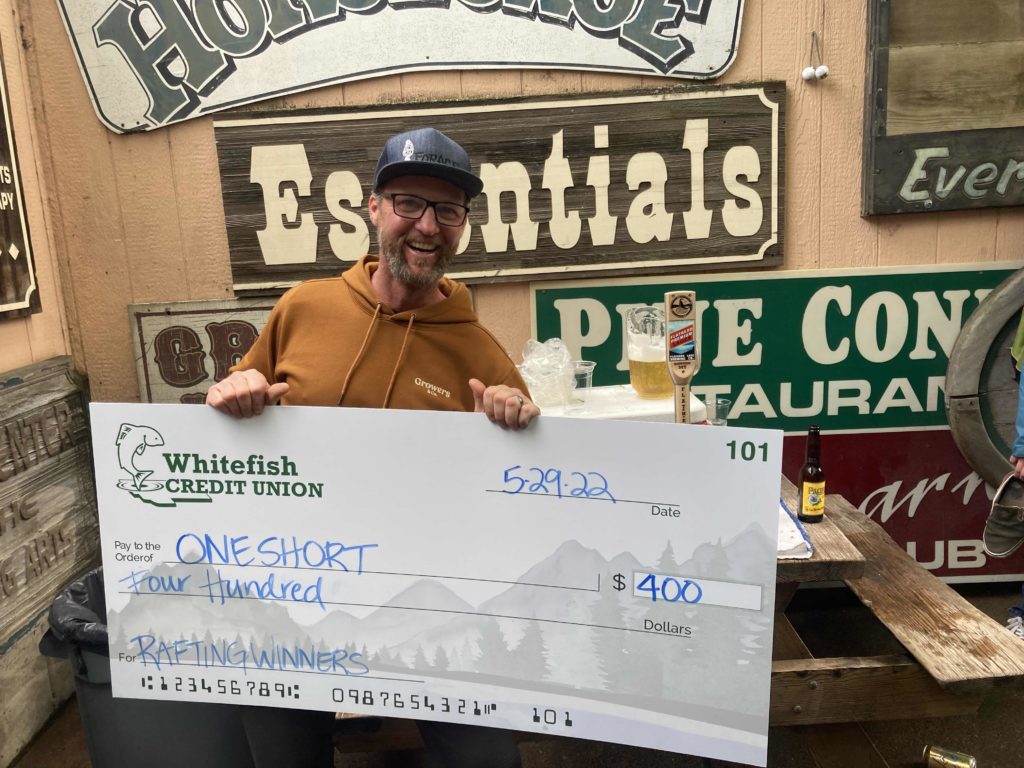 None of which has anything to do with your CSA share. But hey, it can be hard to come up with original content after 15 years of newsletters!. As far the CSA goes, we are still in a bit of a holding pattern. We have been working hard with the farm crew since mid-April planting out the fields. At this point, we have over 6 acres of vegetables planted. It is a sea of white row cover, with beds of vibrant green garlic filling in the gaps. Lots of work, but not much to show for it….yet.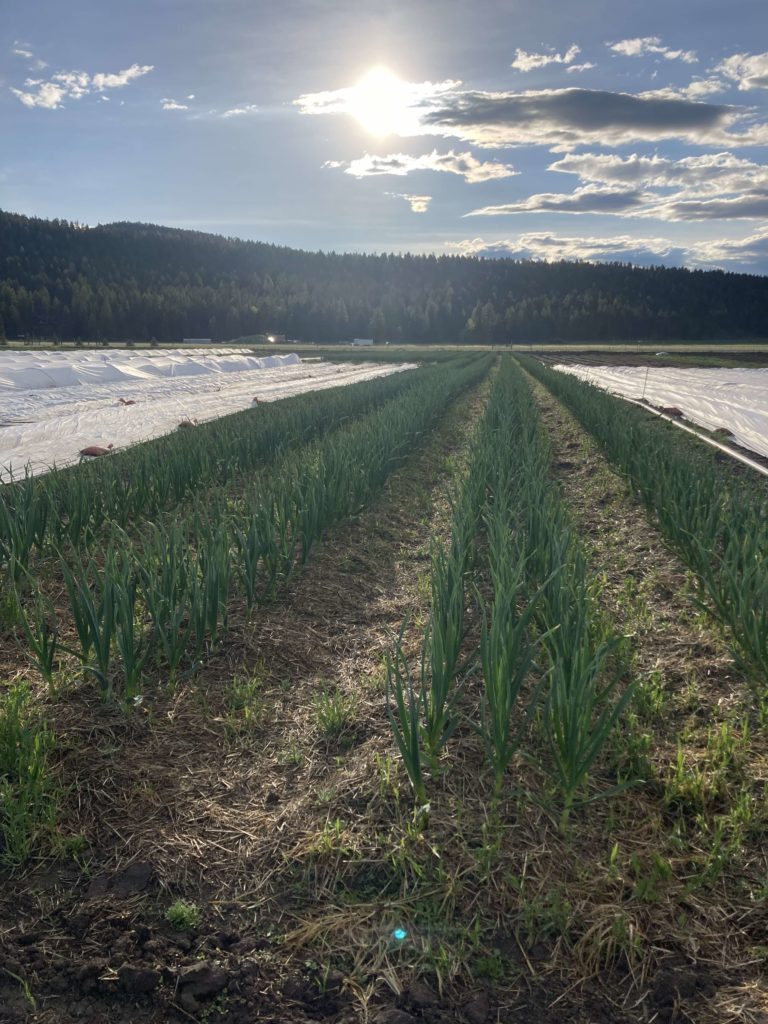 Everything looks healthy, including the weeds, with the only issue being slow growth due to the cool weather this spring. But it's just a matter of time until it warms up and the production pops. There is really nothing more that we can do about it other than wait. While this would have been really stressful in years past, this year we have done all we can do and now it' just a matter of acceptance. And so the shares this week will be on the small side once again, but soon they will be bursting with produce.
A couple things that came up last week regarding the shares. First, make sure you put all your veggies into a plastic bag or tupperware before putting them in the fridge. Putting veggies straight into the fridge with no protection will get you wilty, rubbery veggies in less than two days. This has nothing to do with the quality of the veggies, and everything to due with the fact that your fridge is one huge dehydrator. Put them in a bag, and they should last at least a week. Also, please not that the bags that your greens come in may seem unique…that's because they are fully compostable bags made our of Eucalyptus fiber. They don't keep the veggies as fresh as plastic, but they are more sustainable, and our CSA members have communicated that that is important to them.
Well, here's to enjoying the upcoming summer season and enjoying the beauty that surrounds us. We'll see you at CSA!
Todd