Full Shares: Salad Mix, Cucumber, Zucchini, Sungold Tomatoes, Pruden's Purple Tomatoes, Garlic, Huckleberry Gold Potatoes, and Carrots
Partial Shares: Salad Mix, Cucumber, Zucchini, Sungold Tomatoes, Pruden's Purple Tomatoes, Huckleberry Gold Potatoes
Hello CSA members!
Like the geese returning south, the yellow school buses signal that fall is in the air. As does the 37 degree morning we woke up to this morning. It is week #15, and just for the record, the CSA runs for 18 weeks (we got asked that question a lot last week). So we have 3 shares after this week. While late August can be hot or cold, most years it is pretty dry, and this year is no exception. While many places in the valley had rain storms the past two weeks, we some how managed to miss all of them. Which means we haven't had any rain since early June. Ideally, as we harvest off our crops, we like to seed a cover crop to build soil fertility and protect the soil from the elements. But without rain, that means irrigating it, and at this point in the season we don't have time to move irrigation around because there is too much harvest going on. It didn't help that last week we were missing 3 of our 8 employees due to vacation time, which put a little extra squeeze on the farm. Right now our goal is to start hauling in the bulk onions, potatoes, winter squash, and carrots while at the same time trying to get CSA and markets taken care of each week. It's busy around here!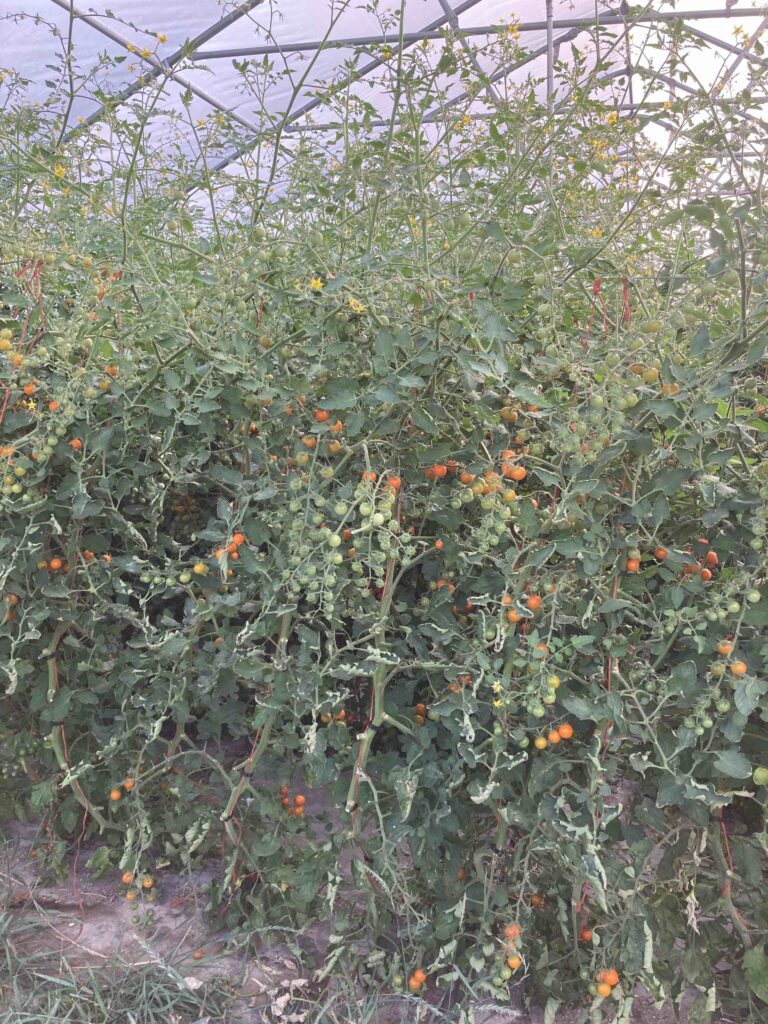 It continues to be peak tomato season at the farm. Last week we harvested over 1000 pounds of sun gold tomatoes out of our two high tunnels, and we continue to pick them twice each week, so you'll have a healthy serving of those. Also, if anyone is interested in drying any, or just binging in anticipation of a long winter, this week we are offering 5# bags of sun golds for $15. I know it's short notice, but if you are a Whitefish member, you can email us your order to 2bearfarm@gmail.com before midnight on Tuesday (tomorrow), and we can add them to your share this week. For all CSA members in other locations, if you could place your order by midnight Wednesday, that would be great. You can order as many bags as you want, first come -first served, while supplies last. For those of you looking for slicing tomatoes for canning, that may not happen until next week.
Today we dug some Huckleberry Gold potatoes, which are our favorite variety for flavor, and they are supposedly the only low-glycemic potato. They make great hash browns, oven fries, or simply cube them and roast them. And the salad mix continues to chug along….I think this will be the first year that you'll have salad in every CSA share of the year. Personally, I just had a huge salad with grated carrot, thinly sliced sweet onion, cubed Pruden's Purple tomatoes, olive oil, lots of apple cider vinegar and a big pinch of sea salt…..simple but delicious! And light, which may come in handy as the temps soar back into the 90's later this week!
Well, it's about dark outside, and I still need to roll down the high tunnel sides, so that will do if for this week. Enjoy the weather, the fresh veggies, and we'll see you at pickup!
Todd