Full Shares: Salad Mix, Spinach, Hakurei Turnips, Baby Bok Choy, and radishes?
Partial Shares: Salad Mix, Spinach, Baby Bok Choy….?
Hello CSA members!
Who's ready for some fresh, local, organic veggies? It's exciting to kick off another farm season! If you are new to the CSA, welcome! Throughout the season, I'll use this newsletter to convey important information regarding your CSA, as well as attempt to give you some insight as to life on the farm, and where your food comes from. I might even lament our industrial food system a bit, although I promised myself to keep things simple and focus on the positives this season.
As much as I enjoyed my trip down the Grand Canyon, returning to a lush green Flathead Valley with a farm full of fresh greens was a real treat! What a difference between this spring and last spring. Last spring was cold and wet, and crops were struggling to grow at this time….and that's before we got flooded out by June rains. This spring has been extremely warm, and the crops are thriving, although I can't predict what June will hold. And the wind the past few days has really dried things out, so we're already having to irrigate to keep the baby plants growing and to help seeds germinate.
Although CSA doesn't typically start until mid- to late-May, we begin seeding for the CSA in late February and early March using our unheated high tunnels to grow our crops for early season harvest, and right now they are bursting with food. Then once the snow melts and the soil dries, we begin planting out into our 14-acre field, usually around mid- to late- April. If you were to take a peak in the high tunnels today, this is what you'd see: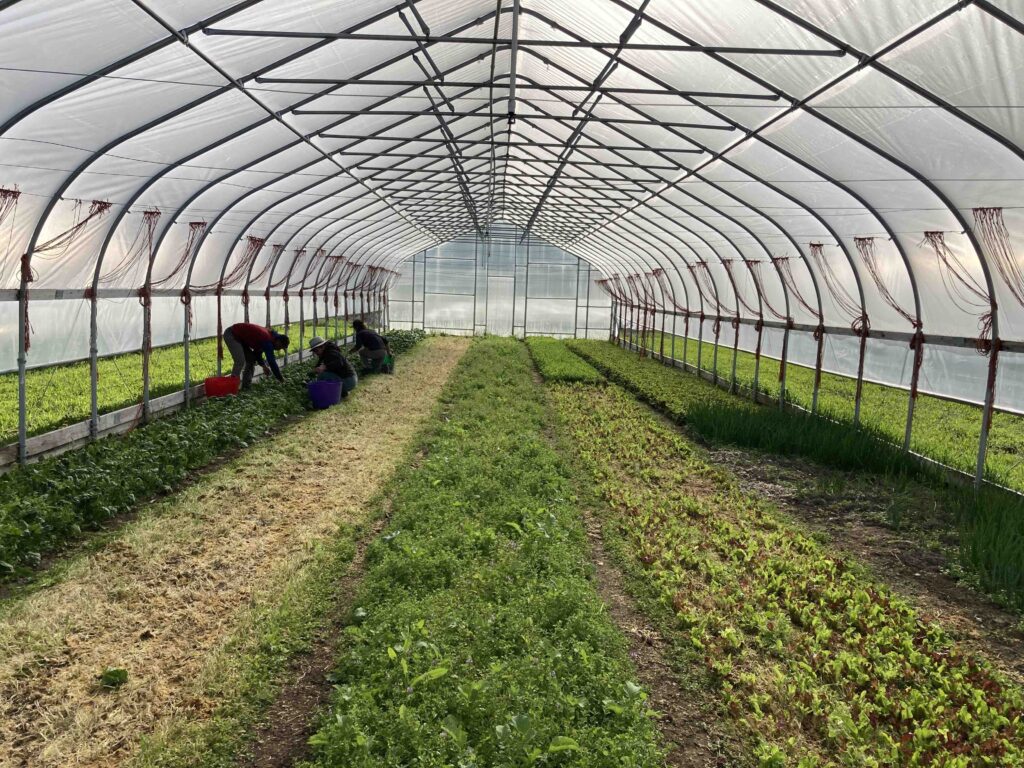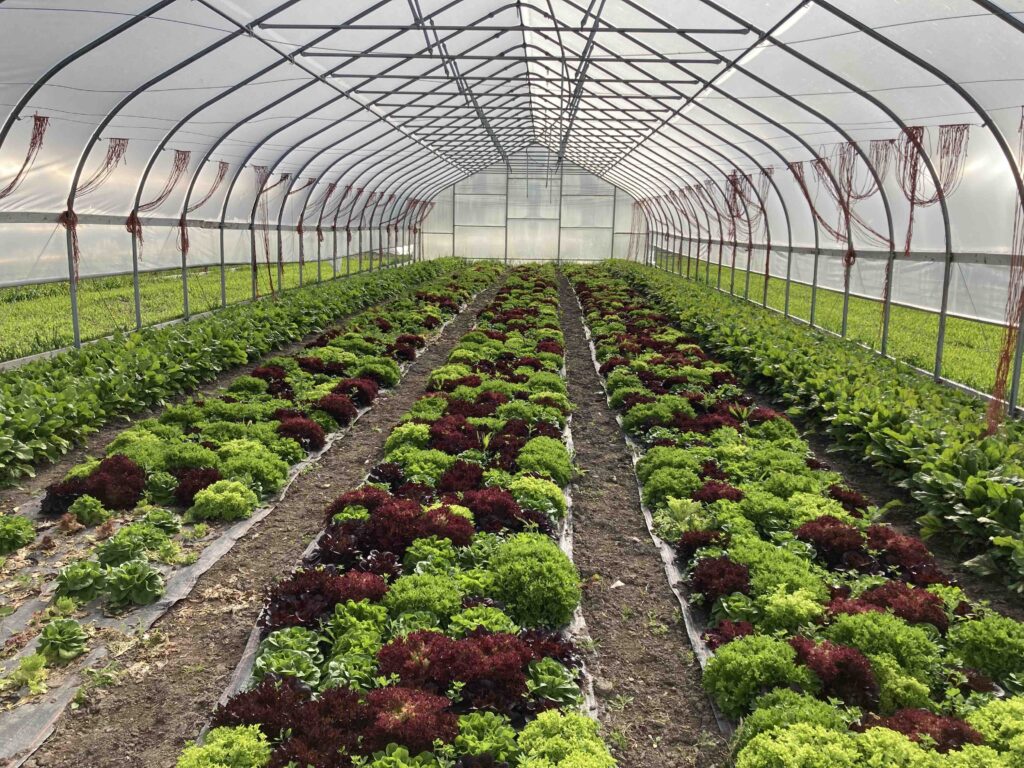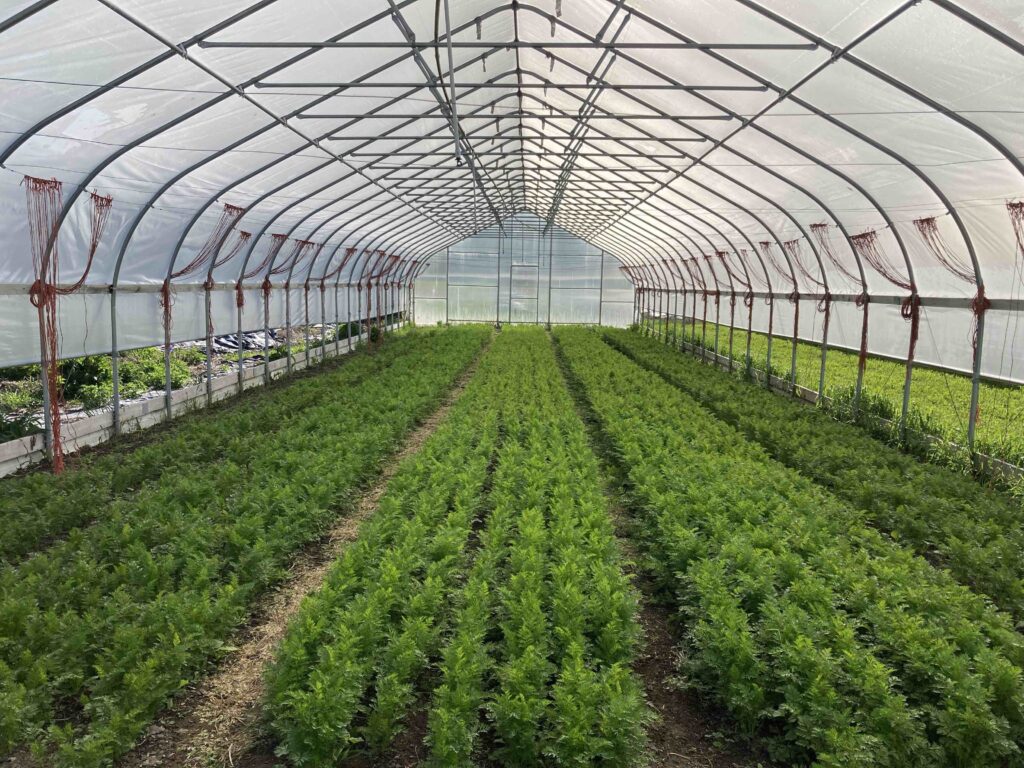 For those who have never tried growing your own food in Montana, you might not be aware that a farm does not plant all of it's crops all at the same time. Different crops have varying abilities to withstand cold temperatures and frost, as well as heat. While we seed crops throughout the season, our primary planting season starts in March with cold hardy, fast growing crops, and ends in.early June (when the risk of frost has mostly passed) when we plant tomatoes, squash and corn (which are extremely sensitive to the cold). And then each of these crops takes varying times to mature. For example, lettuce planted in April only takes 4 weeks to mature, but winter squash planted in June takes 90 days to ripen and barely gets harvested in the fall before the frost returns. My point being that our farm offerings, including your CSA, follow this seasonal pattern. We use all sorts of tricks and season extension techniques to speed things up, but we are not magicians, and we do not use heated indoor growing spaces.
The first couple of CSA shares will consist of those aforementioned cold hardy, fast growing crops. Your share may only have 4 or 5 items in it to start, but as the conditions improve and time passes, your share will increase in both size and diversity. We calculate how much food we give you by taking the your share price and dividing it by the 18 weeks of the season. That gives us an average weekly target. Early on, we don't have enough food due to limited high tunnel space to hit that target, but in the peak season, we will exceed that average amount, so that by the end of the year, you will have received full value for what you've paid for. Or simply put, your shares will be on the smaller side early in the season, and will increase in value as the summer progresses. Also, please note the salad mix you get this week is a very delicate, fast growing variety that ensure we have salad in week #1 most years. Starting next week, we will return to our regular Salanova salad mix that you are probably used to.
And one super important note regarding freshness. First, your refrigerator is one huge dehydrator (that's how cooling works, it sucks moisture out of the air, and veggies). Please do not ever just put naked veggies in the fridge. They should always be protected by a Tupperware container, plastic bag, or even better, reusable bags such as Stasher. Put a bunch of wet carrots in a ziplock bag, and they'll last three months in the fridge, just throw the bunch into the fridge unprotected, they'll be limp and withered in 3 days. Also, please note that all the "plastic" bags your CSA items are in are compostable materials. The clear bags for greens are made out of Eucapyptus, and the green bags are bio-bags. Neither of these preserves freshness as well as plastic, so we encourage you to transfer your items over into Tupperware or Stasher bags (or even a Ziplock), before refrigerating once you get home.
Otherwise, I covered all the pickup times and locations in the last newsletter, so I think we're ready to give this a go! Please consider setting a reminder on your phone so you make your pickup during the scheduled times, which makes being a part of the CSA go really smoothly for everyone! There are always a few hiccups the first week, so we'll deal with them as they occur and make sure everyone is taken care of. Looking forward to seeing all you returning customers, or meeting new ones! We hope you enjoy!
Todd