Full Share: Salad Mix, Spinach, Spring Onions, Kale, Baby Bok Choy, Hakurei Turnips, and Beets/beet greens
Partial Share: Salad Mix, Hakurei Turnips, Rainbow Chard, Baby Bok Choy, and Spring Onions
Hello CSA Members!
What a day! We woke up to much needed rain here on the farm, but it threw a wrench into our planting plans. Lot's of folks have asked us how the warm weather is affecting us. Personally, I've felt a bit wilty as of late, but the plants love it! But as much as the plants are thriving, it's not without issues. In recent years, we've tried to push our CSA start date back a few weeks so that we would have time to get the field planted in May. You see, once CSA starts, we harvest, wash, and bag veggies every morning, which cuts into the time we have available to plant out in the field. Starting the CSA two weeks earlier than we expected was necessary because the crops are growing so fast, but it creates a bit of a time crunch that puts more pressure on us this month.
Given it was too wet to plant today, we turned our attention to High Tunnel four, which looked like this in the morning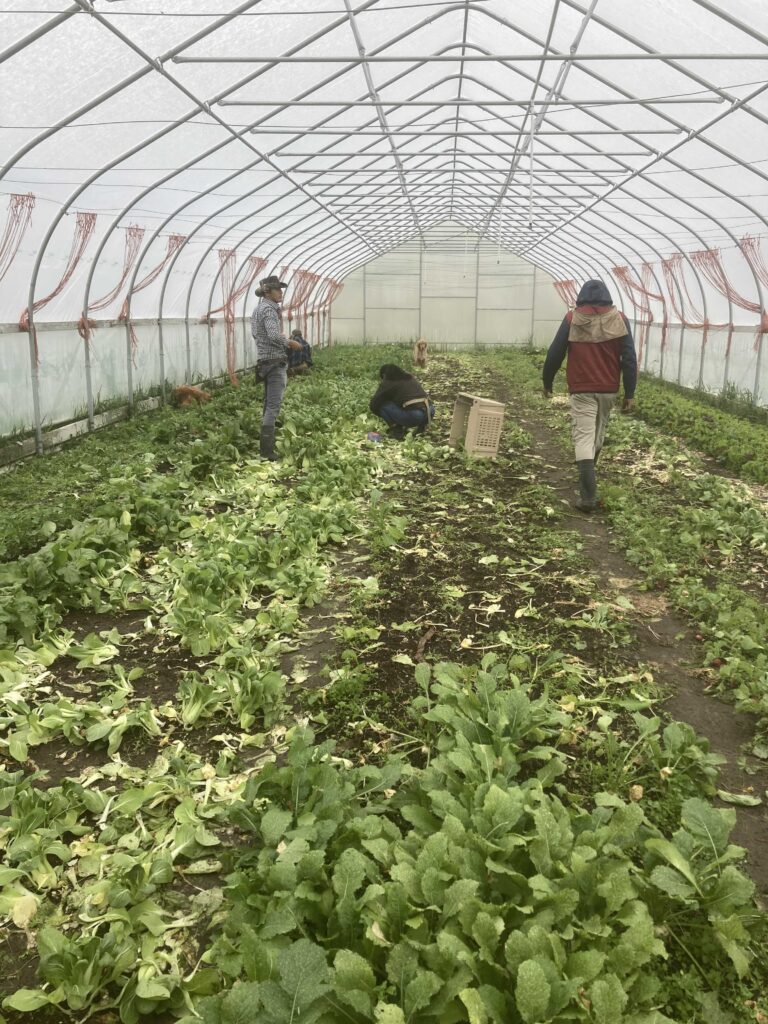 We spent all morning harvesting the rest of the turnips and Baby Bok Choy, then as half the crew washed bunches, the other 3 of us cleaned up the remains, laid drip tape and ground fabric, and planted this tunnel with 400 tomatoes. So, at the end of today, it looked like this: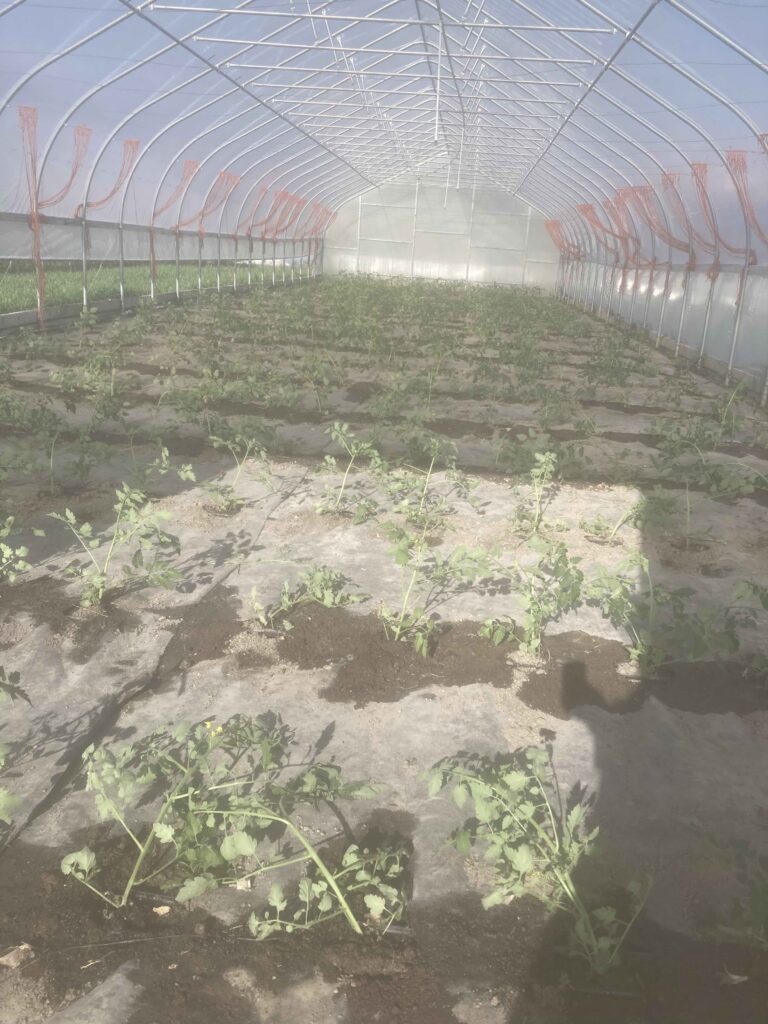 I was feeling pretty good about the day, and was ready to come in and write the newsletter, and then I looked at the forecast again. Possible frost tonight? Great. In a year like this one, it's easy to forget that the average last frost date for the Flathead Valley is June 10th. And in this cold corner of the valley, down low next to the river, we tend to be frostier than most. And the perfect recipe is having a cold front roll through where daytime temps don't get above 70, and then have a calm, clear night….which basically sums up todays forecast. So, it was back out into the field for another 3 hours to batten down all the plants to keep them protected. There is so much food out there that to not make that effort would be irresponsible, as tempting as just sitting down sounded. Luckily, most of the farm is still covered in floating row cover, which is our typical planting technique, so it was easier than it could have been. (spoiler alert: at 6am Tuesday, as I finish the newsletter, it is 36 degrees in Kalispell, 31 degrees at the Stillwater weather station, and I do in fact have frost on the windshield of my car)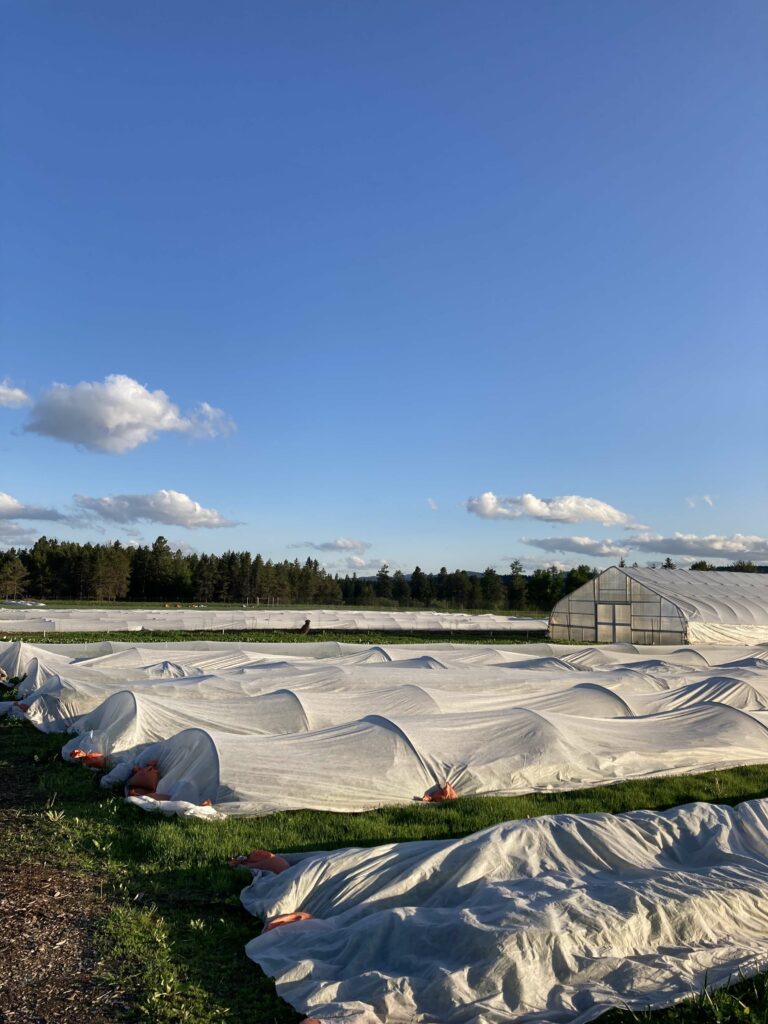 Which leads to an interesting point about our food, which is that it takes a lot of extra work to grow it in this type of climate. For every bed we plant from April to June, we have to haul hoops, sandbags, and floating row cover to protect them. That's not only a lot of extra work, but there is also the cost of all those materials. But it's also one of the keys to our success, and there is no way we could provide as much food as we do with out them. On the flip side, its also one of the limiting factors that keeps our farm from getting any bigger.
So, it's now 9 o'clock at night, and I'm just getting in to write the newsletter, just in case you were romanticizing what it must be like to be a farmer in Montana 🙂
I would like to say "nice job" to everyone last week! I feel like week #1 went off with very few issues. The only thing I would like to clarify is that the Whitefish pickup at The Farmers' Stand runs from 3:30 to 6pm this year. I know there were people already waiting at 3pm when I arrived, and there were certainly a bunch who showed up after 6,. While I had planned for that for week #1 and left a lot of leeway, moving forward I'd like to stick to the scheduled hours.
Also, if you are need with help finding uses for your veggies, the internet is full of recipes. We especially like Andrea Bemis' Dishing up the Dirt book/website, which offers lots of recipes for each vegetable. If website isn't your thing, we sell copies of the book at The Farmers' Stand, so you can pick one up during CSA pickup! The share this week is similar to last week, with the addition of Kale and Chard. Time to make some coffee…..We'll see you at CSA delivery!