Full Share: Salad Mix, Rainbow Chard, Spring Onions, Romaine Lettuce, and Baby Bok Choy
Partial Share: Salad Mix, Kale, Baby Bok Choy, Spring Onions, and TBD?
Hello CSA members!
Planting season here at the farm is still in full swing! This week we're hoping to get all of our winter squash planted and the rest of the carrots seeded, at which point the major plantings will be completed. Then it's time to get everything weeded! This time of year is a lot of work. Our farm consists of 6 high tunnels and 14-acres of outdoor production. The field is split up into 35 blocks that are each a third of an acre, each containing 12 raised beds that are 180 feet long. So, if you do some quick math, that's 420 beds 180 feet long. And there are 7 of us. While we use tractors for some jobs, much of the work is done by hand. Someone told me the other day they envied my job. Maybe after seeing that math, they'll reconsider their stance.
While it's difficult for me to not drift off on a philosophical tangent regarding the culture of work in our society these days, and my opinions (most likely deemed antiquated) about our obligation to contribute to a greater good than oneself, I will refrain for this week. My goal these first few weeks is to simply give everyone the lay of the land so that they are more familiar with Two Bear Farm, what it looks like, and what we do here.
Even though it's still technically spring, all of the early season food grown in the high tunnels (see photos in Week #1 newsletter) has been harvested and eaten at this point. Because the crops in the tunnels grow so much faster than the crops outside, especially in a warm year like this, we're seeing a bit of a lag as the outside crops try to catch up. So, while last week was a bit larger of a share, this week the shares will be a bit smaller as we wait for our field crops to mature.
As far as the field crops go, things are looking good, but the weeds are getting ahead of us a bit. All this rain keeps it too wet to do much effective weeding, so we'll have to catch up once it dries out. The garlic is already about 2 feet tall. That's about 18,000 garlic plants in the photo below.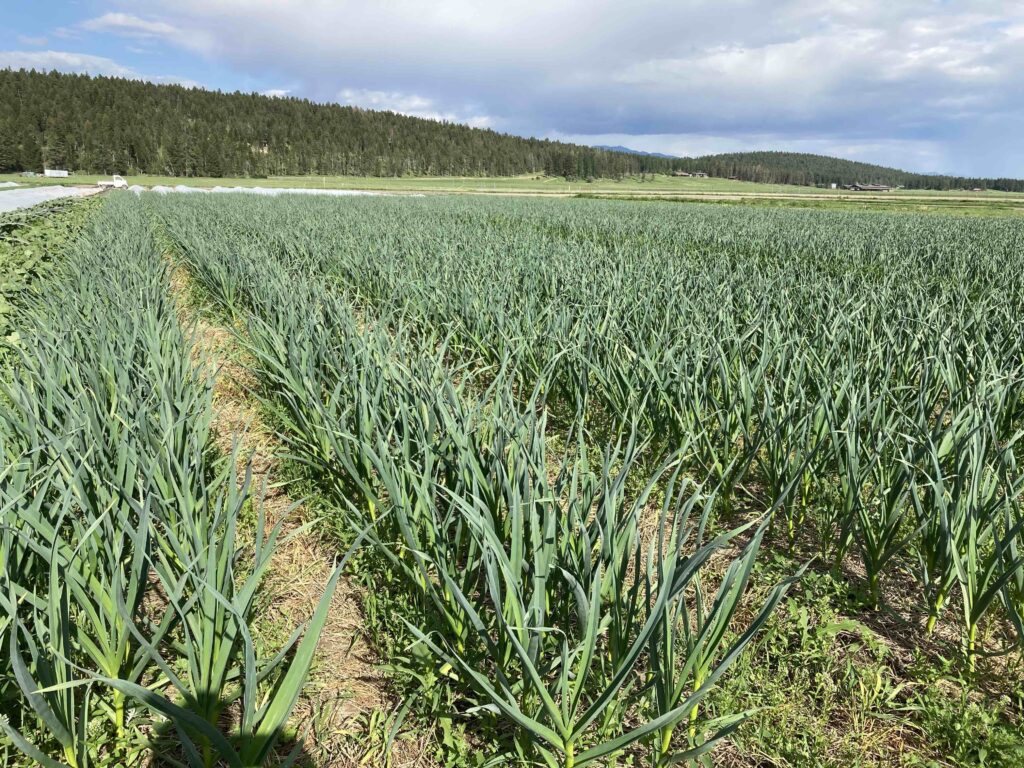 The high tunnels are fully planted in tomatoes and cucumbers. Even the rolling high tunnel has been moved off of the early carrots, which you can see in the foreground, and has been planted with slicing tomatoes.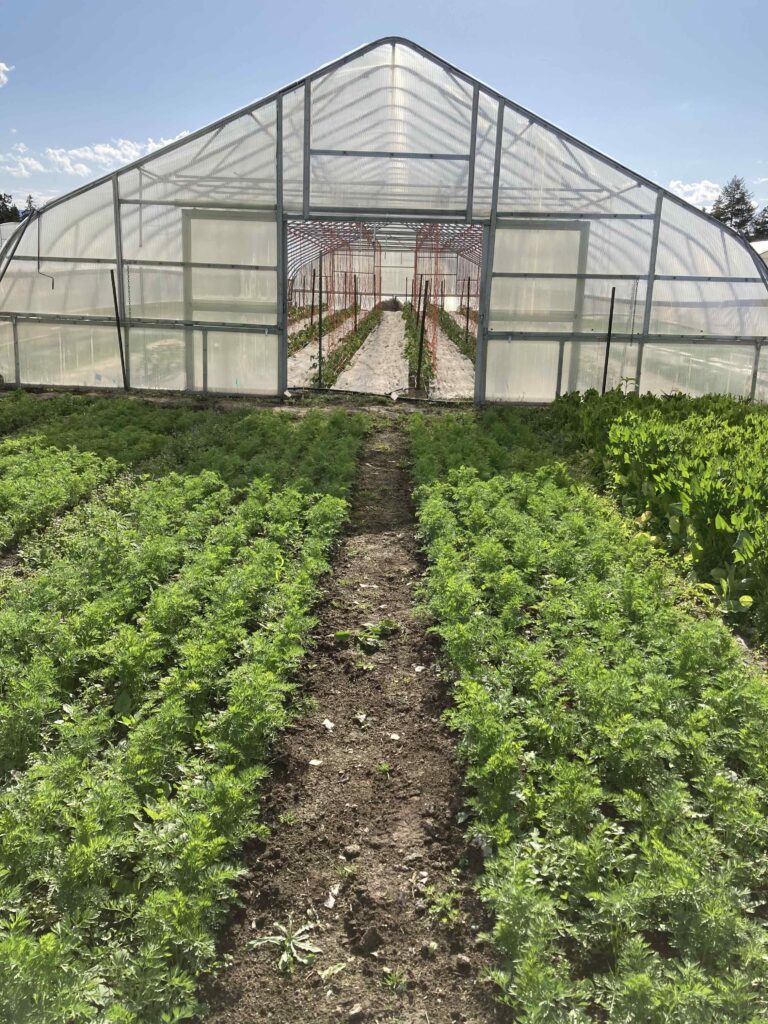 And our earliest block of plantings, Block 1, which contains the first kale, chard, cabbage, and broccoli has had the row covers pulled and is in the process of getting weeded. The growth is impressive for late May!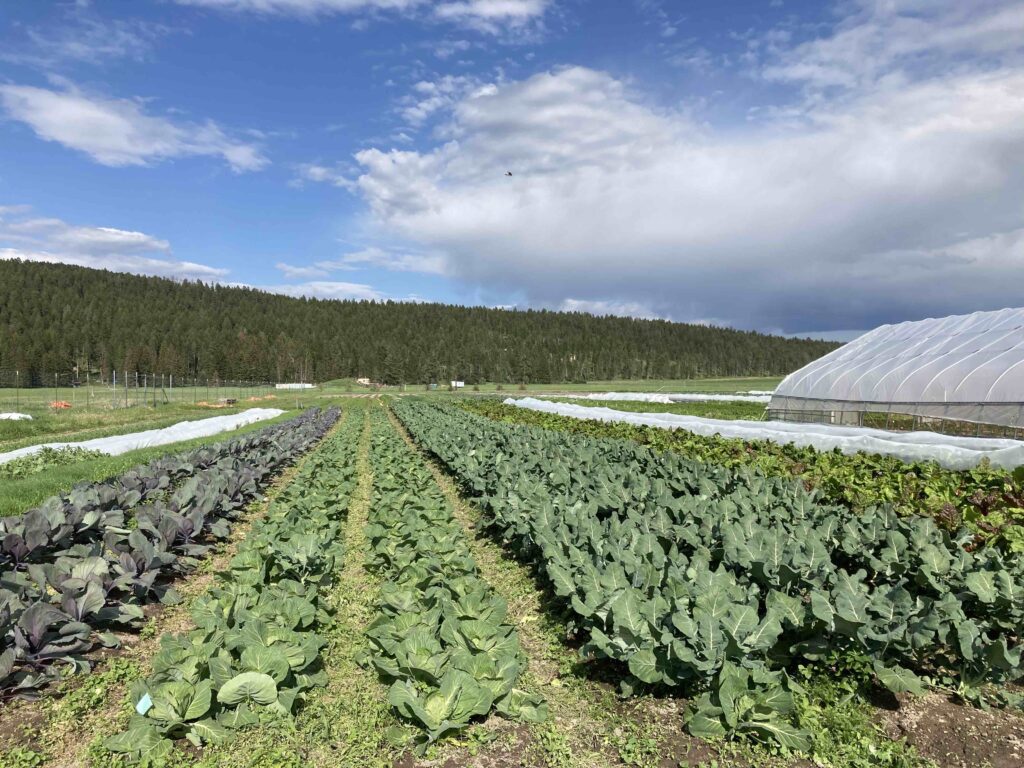 Once we get a few days of warm, dry weather, we might put out a call for volunteers to help us with some weeding, so keep your eyes peeled for that if you are interested. Also, If at any point, you find you are struggling to keep up with eating all your CSA items, get creative. One long time CSA member told me this week that she blends all the greens (turnip tops, beet greens, etc) and freezes them in ice cube trays to use in soups throughout the year, or in her smoothies.
Well, as the saying goes. "the difference between hope and despair is a good nights sleep", so I'm off to bed to get some rest! Ok, maybe the weeds aren't that bad 🙂 We will see you at CSA pickup!
Todd