Full Share: Salad Mix, Kale, Baby Bok Choy, Spring Garlic, Romaine Head Lettuce, Kohlrabi, Hakurei Turnip, and a little bit of basil?
Partial Share: Salad Mix, Kale, Baby Bok Choy, Spring Onion, Radish, and Kohlrabi
Hello CSA members,
Well, I seem to be in a pattern of not leaving myself much time to write the newsletter. This time of year feels like the make or break period where you either try to keep up with everything, or fall behind. Well, that pretty much summarizes farming in general. But this time of year it feels extra important to get all the planting and weeding done so that plants have the time they need to grow, and we have lots of food for CSA and markets. So, there is a lot of incentive to stay out extra late trying to get all the things done. Plus, it's just so damn nice outside!
It has felt like we've been in prime summer for over a month now, and we're just entering June! What's more surprising to me is how warm the night time temperatures have been. We typically have cool nights out at the farm, and only in July and August are they above 50 degree. But most nights this May were in the 50's, and the plant growth shows it. As does the weed and insect pressure. What's been different this year is we've had to change how we do things. As an organic farm, we don't use any pesticides, so we rely on row covers to protect our crops from both frost and insects. But this season, we are finding that the temperatures are getting way too hot under our covers, which has never happened before. I fear we cooked all the green bean plants to death before we discovered this was happening. So, now much of the farm is uncovered, which makes irrigation easier, but also leaves the plants vulnerable to insects.
Which brings up a little known fact. In todays world, the global food industry frowns upon blemished fruit and vegetables, and consumers have been taught to feel the same way. But did you know that because plants are rooted in place, and cannot move to escape stress, they have become highly adapted at producing chemicals to help deal with frost, insects, disease, and other stessors? These compounds that they create, called secondary plant metabolites, consists of some things you may have heard of, such as antioxidants and flavonoids, There are over 50,000 of these compounds produced by the plant kingdom, and it many of them have health benefits for humans. So, .while a balanced and fertile soil is the biggest source of nutrition in plants, plants grown outside that have to deal with the school of hard knocks (as opposed to a hydroponic plant grown in a protected indoor environment), have higher secondary metabolites levels, and therefore are potentially more nutritious. I say all that so that if you have noticed some flea beetle holes in your Baby Bok Choy or Turnip greens, don't freak out. Just look at the bright side, the bugs have made it more nutritious for you, you should be comforted that other living things want to eat your vegetables, and you are not eating all of invisible pesticides that are so common in conventional fruits and veggies..
Did I mention it's nice outside! I love the evening hours on the farm when the sun gets low in the sky and the light turns yellow. Here are some photos from just tonight, while I was out seeding carrots and not writing the newsletter.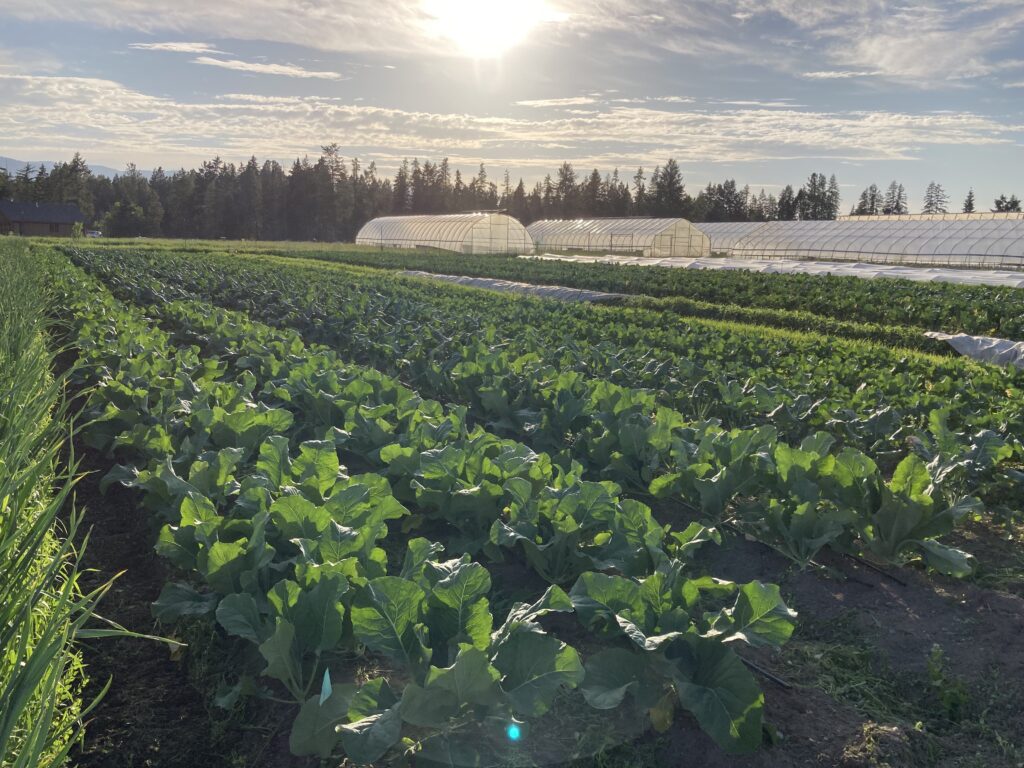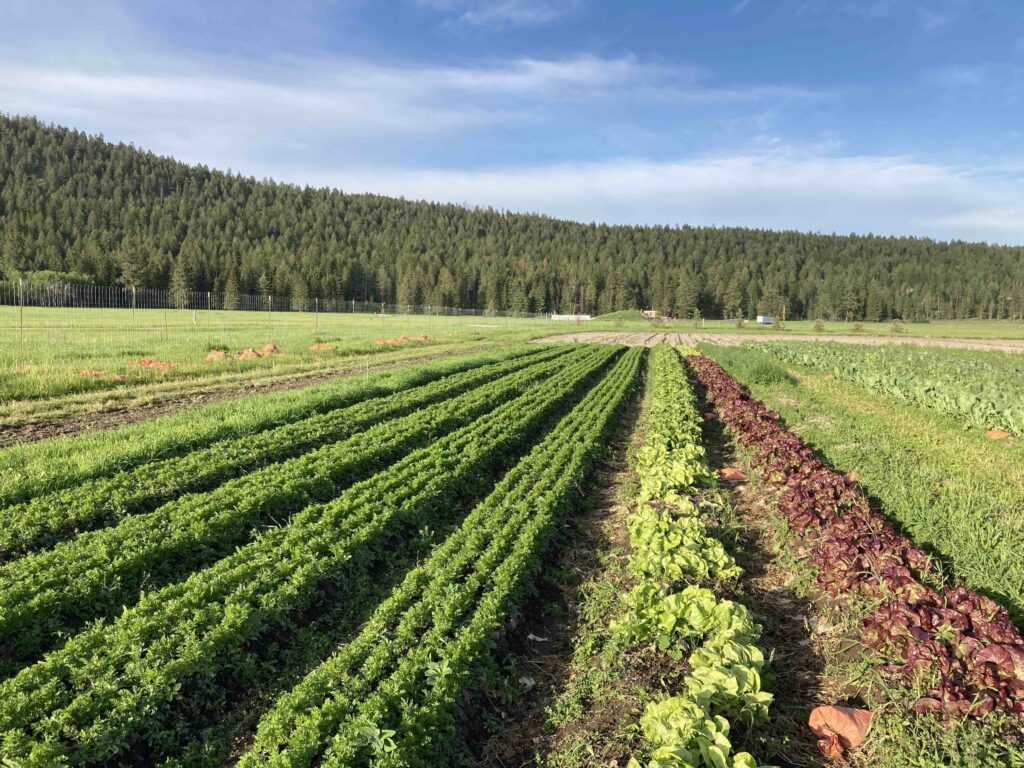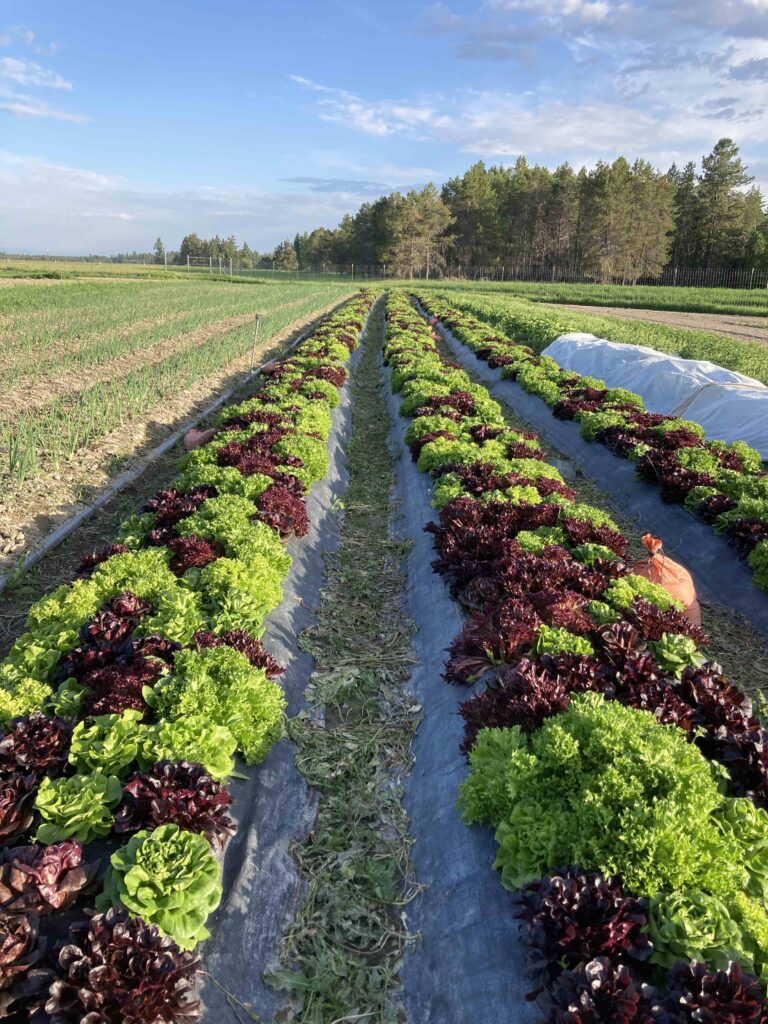 While we are about to start shifting into broccoli, cauliflower, and the start of the early carrot season, we are still a week or two away. So your share this week has some of the early season stalwarts, like kale, turnips, baby bok choy, and salad mix. There is also some Kohlrabi (got the Dishing up the Dirt link handy?), and green garlic, which you basically use the bottom portion just like you would garlic. Tonight, in fact, I just had a big salad with sautéed Baby Bok Choy and green onions on it. Simple but delicious, especially when it's hot out. And the Romaine heads are big, as they often are in spring, but don't let the size fool you, they are tender and super sweet. Great for salads or for burger wraps.
See you at CSA pickup!
Todd