Full Share: Salad Mix, Cauliflower, Broccoli Florets, Cucumbers, Basil, and Carrots
Partial Share: Salad Mix, Cauliflower, Cucumbers, Broccoli Florets, and Carrots
Hello CSA members!
It's hard to believe, but we are nearing the half way point of the CSA season! No sooner had I voiced my concern about the low water level last week than an article came out in the Flathead Beacon that talked about the same issue valley wide, as well as the fact that most of the Flathead is in drought conditions this summer. While we have dealt with all sorts of crazy weather during our 16 years of farming, running out of irrigation water would be a new one for us. Not many ways to mitigate that, seeing as we're on the Stillwater River, and there is no dam upriver of us that can release more water.
Here on the farm, the days are increasingly spent harvesting and washing crops for sale, and getting adequate irrigation on everything. From a financial standpoint, the farm season is a wild endeavor, and to be understood it really needs to be looked at in it's entirety. The reason I say that is because during last week's Saturday Farmer's Market in Kalispell, a customer commented that "we were killing it", which is a comment we often hear at market. And it's true, we were having a very busy market. But I thought it would be interesting to give you the full season perspective of farming in case anyone was wondering (and because CSA members play a huge role in this!).
For farms like ours, the first three months of the calendar year are full of expenses to get ready for the season. Many thousands of dollars in seeds, potting soil, organic fertilizer, row cover, mulch, irrigation parts, plastic bags and twist ties, etc……probably somewhere in the neighborhood of $40K. Because we have a lot of equipment and infrastructure, we also have to factor in that our depreciation on these items (the amount of them we use up each year to do the farming), is around $32,000. Then on the first of April, our field crew arrives, and our payroll begins….this year we are racking up about $6,720 of payroll per week…every week. And given that it takes a bunch of time to get crops in the field so they can grow and be harvested and sold, there's about 6 weeks where there is no income to offset any of these expenses. When the income does start, it starts slow, and then builds through the season.
So, we dig a huge financial hole to start each season, and every rainy farmer's market adds a little insult to injury. I did a quick spreadsheet for fun, and it estimates a hole that's about One hundred thousand dollars deep! As food begins to get harvested and sold, and sales begin to pick up, the rate that we lose money slows down until eventually, in July, August, and September, if all goes smoothly, we begin to make more money each week than we spend. But that's a big hole to dig out of! And, that's why something like a big hail storm or a flood can be so devastating. In a good year, we will gradually work our way into the black, but we don't typically reach the break even point until we reach the last week or two of the season. The uncertainty of it all can feel rather harrowing, although after 16 years of farming we have gotten somewhat used to this progression. But my point is, last week when a customer tells us we are killing it at market, they are just seeing one snippet in time, and they have no idea that we are $77,000 in the hole for the season at that point in time. I vaguely heard a response from Rebecca that had something to do with her having a new jaguar sports car parked out back 🙂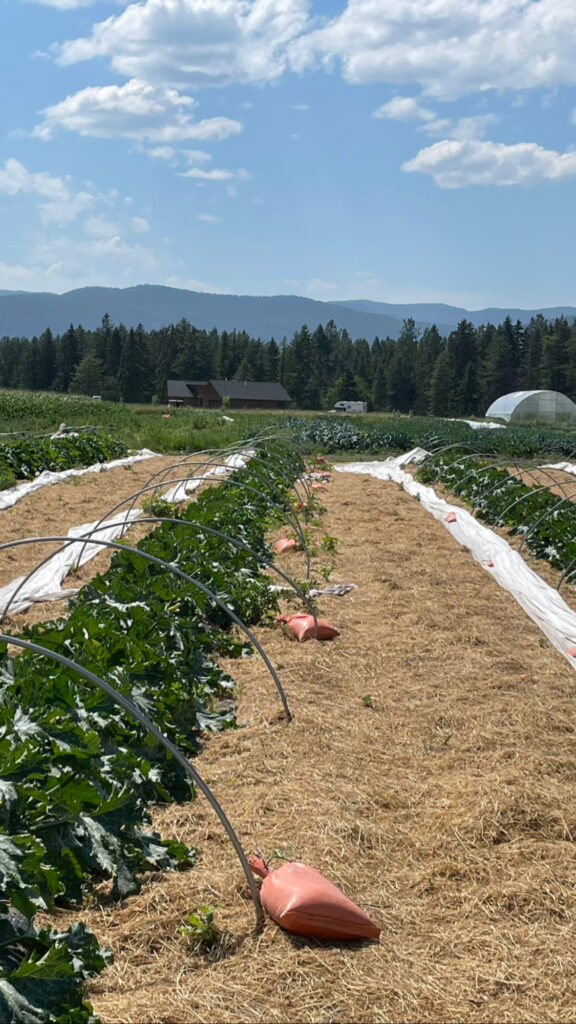 Now, most farmer's who operate like this need to go to a bank and take out a line of credit to pay for all their early season expenses. And if they have a bad year, the bank is not very compassionate about repayment, which is why literally millions of farms have been lost to foreclosure during the past 75 years in this country. It's also why we have a wonderful concert series called Farm Aid. But in our case, we don't need a bank ( although I do love concerts), because we have YOU! We have Community Supported Agriculture! Yes, that's what CSA stands for 🙂 When you pay for your CSA share at the start of the year, you provide the cash flow necessary to cover early season expenses. And because you commit to paying for your share regardless of what happens in a season, that guarantee of income for the farm helps mitigate our risk and spreads a little bit of financial exposure across 250 members. Knock on wood, but if we were ever to have a catastrophic season where we couldn't grow an ounce of food, as a member you might be out 500 bucks, but the farm would live to farm another year (financially speaking, mentally….I'm not so sure). And when I say that people need to be more involved in their food system than simply being consumers, the CSA is a great example of how to do just that. You are investing in the local food system when you buy a CSA share!
So, when I punch in CSA membership payments during the early months of my little spreadsheet, it paints a totally different financial picture for the farm. One where we draw down our CSA payment balance in the early season, but we never go into the negative, and one that helps lessen our financial risk. And that's a big deal. Another important fact is that because it is important to us to keep fresh, nutritious food accessible to everyone in our community, we try to keep the cost down by not making a profit. Our goal is to break even at the end of the year. But to take on all that risk in order to break even seems a bit foolish, which is why I've often pondered if the farm wouldn't be better off as a non-profit? But that's for another discussion.
So what's in the CSA share this week? We will have lots of cucumbers, because they are growing like crazy. As is the cauliflower and the broccoli florets. You'll have salad mix and carrots, and this week the full shares will be getting basil. It's getting pretty hot out there, and there is nothing like a nice cooling cucumber salad for lunch or dinner!
See you at CSA pickup!
Todd