Full Share: Salad Mix, Sungold Tomatoes, Zucchini, Cucumbers, Cauliflower, Broccoli Florets, Carrots, and Basil
Partial Share: Salad Mix, Cauliflower, Carrots, Cucumbers, and Zucchini
Hello CSA members!
That, folks, was a hot day! 95 degrees with wind felt a bit like being in a blast furnace. When we saw the forecast for the cold front moving in, we decided to delay our garlic harvest until tomorrow, and instead spent this morning harvesting, and the afternoon in the cool pack shed washing and bagging food. Which means tomorrow is going to be a big day trying to get most, if not all, 18,000 garlic plants harvested and laid out on the greenhouse benches to dry… but at least it will be cooler! In case you were wondering, each leaf on the garlic plant travels all the way down the stem to the bulb, where it serves as a paper wrapper to cover the cloves (hence forming the "bulb"). The thing with timing garlic harvest is that the plant draws down energy from the leaves to grow the bulb of garlic. If you harvest too soon when the plant is too green , the bulbs are often not full sized. But if you leave your garlic out in the field too long, and too many leaves die off, you end up not having enough paper wrapper layers on the finished garlic bulb to be marketable. And this year I think we are pushing our luck a bit on that latter front. But I did dig around a bit and took three bulbs as a sample to gauge bulb size this season. This one was the biggest!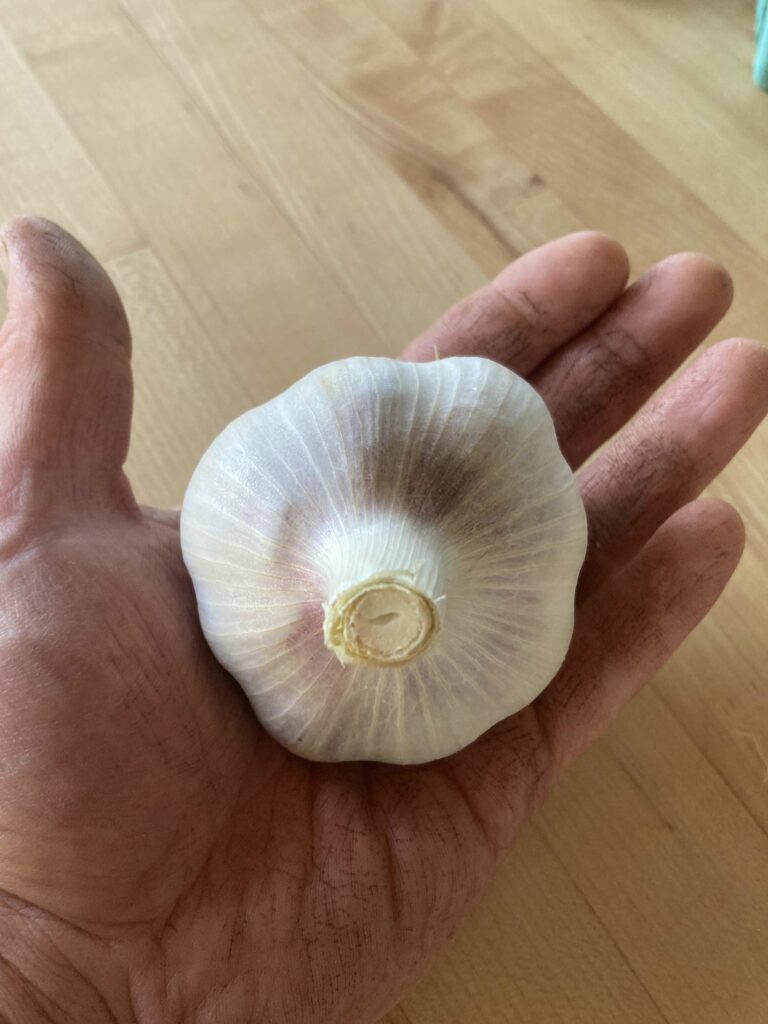 It's late July, it's hot, the valley is busy, and the farm is bustling. At this point, we harvest food from 7am until noon all five weekdays, and then we have four days of CSA deliveries, two farmers markets, one day of wholesale orders, and two deliveries to The Farmers' Stand each week. It's definitely the beginning of peak season, and it will go like this until the end of August. As the strain of that busy-ness takes a toll on us (and everyone) both mentally and physically, I once again find myself coming back to the simple truth that keeping a healthy perspective is the key to it all. It's easy to get caught up in stories that don't serve us well. And learning to let those stories roll on by, and instead refocus our energy where it does serve us well is a real skill that I must relearn more often than I'd like to admit. Learning to have gratitude for all that we have, and to feel contentment in where we live and what we do should be easy, but it takes real focus in the age of information. As my good friend Keith likes to say…"comparison is the thief of joy". I basically walked off the job in the broccoli patch this morning to fit in only my second hot yoga class of the season (which seemed funny on a 95 degree day), but it always is just what I need to get grounded and re-focused. And while the peak season is key to our livelihood and important to us provisioning food for our year, I do look forward to the time where things slow and there is room for other things in life, such as yoga. And rest. And recreation. And …ok, I'll stop 🙂
This week the Sun Gold tomatoes are starting to ripen in larger quantities, so we'll be able to get them to all of the full shares. Next week, we'll make sure the partial shares get some. Next year we will definitely be altering the amount of cauliflower that we're growing, as this year I'm feeling a bit overwhelmed by it, and thus sharing the love with you all again this week. And speaking of love, this is the season for making pesto! If there was a Guinness Book of World Records category for most successive days of eating pesto, I bet I'd be in the running. Every summer we blend up basil with olive oil, and put it into small glass yogurt jars and mason jars, and then freeze it. Then all year long, we pull out jars so that we can have pesto with basically every meal. Talk about feelings of abundance!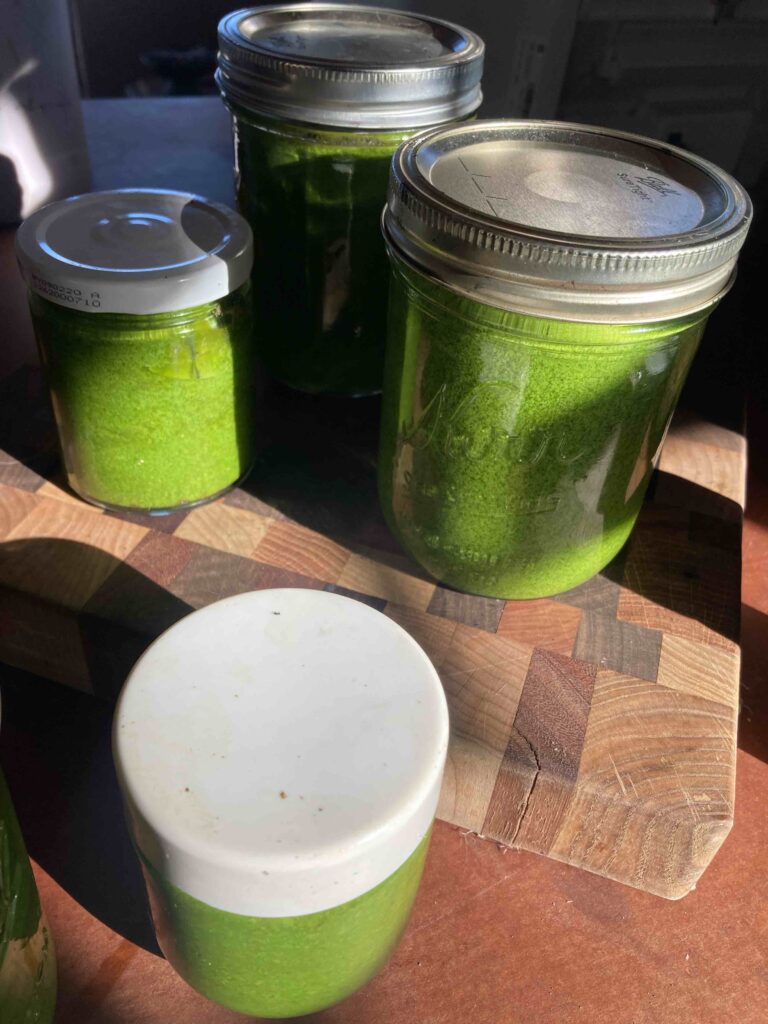 Well, now that it's finally cooling off, I think I'll head out to the back patio to relax a bit before bed. I'll see you all at CSA pickup!
Todd